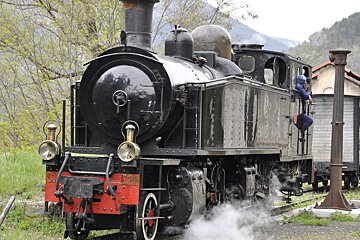 Train des Pignes a Vapeur (Steam Train), Provence
A scenic steam train ride from the coast to the mountains
The Train des Pignes a Vapeur runs on part of the Chemins de Fer de Provence railway line and connects the Riviera town of Nice with the historic city of Digne Les-Bains.
Discover the Côte d'Azur as you have never seen it before aboard the historic Train des Pignes. Travel this picturesque rail road on an authentic steam train while experiencing the charm of days past – right down to the wooden benches!
There are two separate routes, one from Nice to Puget-Theniers and the other runs from Puget-Theniers through Entrevaux and on to Annot.
Each train runs every Sunday between May and October.
Watch out for
Note that the Chemins de Fer de Provence is a separate railway service from SNCF and does not use the same stations, the Train des Pignes leaves from the Gare de Nice on 4 bis rue Alfred Binet opposite the Liberation tram stop.
Who should go
This is the perfect family activity as it is an interesting and beautiful train ride and who doesn't love trains! From grandchildren to grandparents they never lose their appeal.
How to book
Booking is compulsory for this train as it can be incredibly popular in the height of summer. You can book in advance by calling them on the number above.
How to get passes
You can book tickets at the tourist offices in Annot, Saint-André-les-Alpes, Digne-les-bains, Entrevaux, Nice, Puget-Tnéniers or at the train stations in Nice or Puget-Théniers.
Location