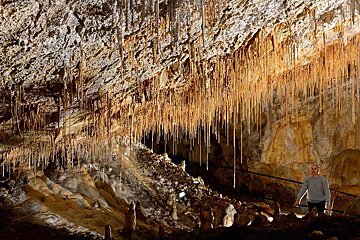 Les Grottes de Thouzon, Isle sur la Sorgue
Journey back in time in these ancient caves in Le Thor
You will be able to walk along the fossil bed of an ancient underground river, and discover the richness and diversity of this cave and eco-museum.
The 45 minute tour will give you all the information you need to enjoy your visit and learn about the history and creation of the cave. An exceptional example of conservation of the unique heritage of the area. Situated at the foot of the Thouzon hill, this large cave offers visitors the chance to see stalactites, stalagmites, crystalisation, and cave pearls alongside geologically interesting finds.
The guides will lead you through 60 million years of history in just 45 minutes.
Worth knowing
This cave was discovered in January 1902 and is in fact the only natural care equipped for tourism in the Vaucluse department.
When to come
Opening dates & times: Open 7 days a week, including public holidays
Guided visits
Sunday 6th, 13th and 20th March from 14:00 to 18:00
March 27th to June 18th from 10:15 to 12:15 and from 14:00 to 18:00
June 19th to September 11th from 10:15 to 18:30
September 12th to November 1st from 10:15 to 12:15 and from 14:00 to 18:00
How to book
For group reservations or any other information about booking you can email them directly.
How to get passes
Prices:
Adults (18+) 8.90€
Teens (12-17 yrs) 7.80€
CHildren (5-11 yrs) 6.50€
Under 5's go free
Students (- 25 years), Unemployed and People with Disabilities: On presentation of proof, 1 € discount will be applied to the individual entry fee
Location