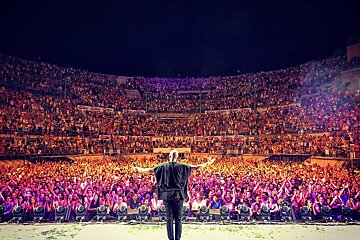 Festival de Nimes
Fantastic music festival in a Roman amphitheatre
The Festival de Nîmes is an annual event hosted at the stunning Roman amphitheatre of the Arènes de Nîmes, offering a top-class lineup.
Since 1997, the Festival de Nîmes has hosted a fantastic selection of contemporary music and musicians in the Arènes de Nimes. This festival is a highlight of the summer!
What to see
National and international artists perform every summer in front of more than 10,000 spectators. Stars that have taken to the stage here include David Bowie, Stevie Wonder, Metallica, Muse, Daft Punk, Mika, Dave Gilmour, Nick Mason and even Pharrell Williams.
History
It's first outing in 1997 saw Jarmiroquai perform, and over the years it's showcased French artists (Johnny Hallyday, Renaud, Michel Polnareff), metal groups (Slipknot, Metallica), international stars (Placebo, Foo Fighters, Bjork), emerging talents (Shaka Ponk, Angele) and superstars (Elton John, David Bowie, Sting, Radiohead, Daft Punk and Santana).
Location