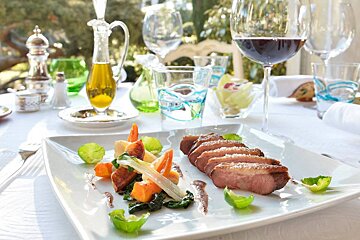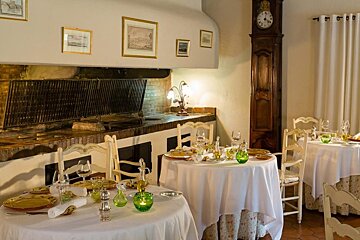 Auberge De Cassagne Restaurant, Avignon
A restaurant and an exceptional wine cellar
In each of his dishes, Philippe Boucher places Provence centre stage. Thanks to different associations of spices and carefully selected products, he offers a regional and gourmet menu.
In a cosy setting, the tables are set near the large bay windows in the warmth of the sun. When the weather is fine, meals are enjoyed on the wrought-iron terrace opening out over the garden. Their exceptional wine cellar means that they can serve you the very best vintages.
The restaurant is open every day from midday to 1.30 pm and 7.30 pm to 9.15 pm.
Visitor comments
"French gastronomy at its best. Impeccable service and delicious dishes.Staff were very accommodating of my husbands dietary requirements and suggested options that did not loose flavour . Pricey but totally worth it." - Trip Advisor
"We had an amazing meal at this beautiful restaurant. The food was Michelin star quality and the service was equally impressive. The owner and the chef are fantastic hosts and I couldn't recommend it more highly - a perfect meal in every respect!" - Trip Advisor
"Gorgeous! The setting, the ambiance, the service, the food, all wonderful. Traditional French fair, recommend." - Trip Advisor
Location