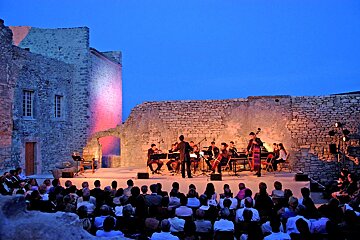 Festival de Lacoste
Opera, theatre, dance and cinema in the Château de Lacoste
The château is owned by millionaire fashion designer Pierre Cardin, who originally launched this stylish opera festival back in 2000.
Offering the public the chance to enjoy opera, dance and theatre in the dramatic surroundings and to discover new, fresh talent in the performing arts world. The venue offers an original and exceptional acoustic setting this summer festival. Performances take place within the grounds and the ancient quarry.
Visit the website to see this year's programme and to find out how to buy tickets.
Location