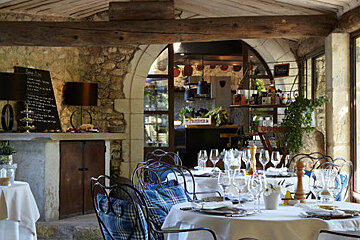 © Maisons & Hotels Sibuet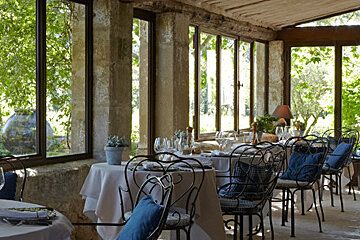 © Maisons & Hotels Sibuet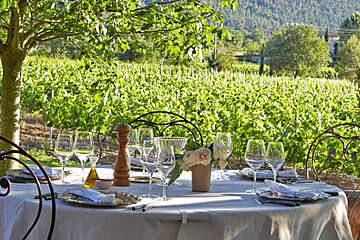 © Maisons & Hotels Sibuet
La Bastide de Marie Restaurant, Menerbes
Provençal cuisine in a beautiful traditional house
Located in the charming village of Menerbes and overlooking the Luberon vineyards, La Bastide de Marie is a B&B with a traditional Provençal restaurant serving classic dishes made with fresh, seasonal and local produce.
Their specialities include smoky chilled tomato soup with olive tartare, Provençal-style "caillettes" (meatballs) with herbs from the kitchen garden, creamy risotto with Vaucluse mushrooms and truffles, crème brulée flavoured with lavender grown on the estate, and profiteroles with lime tree blossom and lemon frosted with juniper and thyme. You can enjoy their cuisine in the terrace or the indoor dining room.
Their aperitif at the vineyard is also a delight. Afternoon teatime is every day between 16:30-17:30.
They also offer cooking lessons with chef Laurent Houdart, which include a visit to the country market at Coustellet, a tour of the Bastide's kitchen garden and the preparation of traditional Proveçal recipes.
Visitor comments
"Amazing experience! Impeccable service, beautiful surrounding, fresh food and great wine. All perfect. We will come back." - Trip Advisor
"Firstly, the atmosphere on the terrace, under the trees and amidst the vineyards is simply top of the range. Second, the standard of cooking is truly excellent. In particular I had the best lotte ever. Finally, the price/quality ratio is way better than any of the top quality restaurants I visited lately in the Luberon. I will definitely be going again." - Trip Advisor
"Unbelievably beautiful, the setting, the tranquility and the food. We will go back."- Trip Advisor
Location