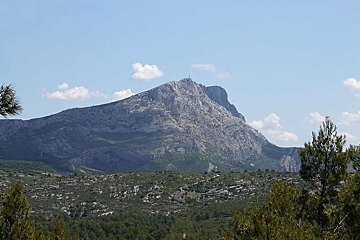 Cotes de Provence Saint Victoire
Vineyards close to Aix-en-Provence
These vineyards are located to the east of Aix en Provence, up to the foothills of Sainte Victoire. The Association des Vignerons de la Sainte Victoire promotes wines in the area and is based in Chateau de Trets. Tastings, sales and visits to wineries can be arranged here.
Regional wines
Red & rose wines are mainly produced by blending Grenache, Syrah and Cinsault (makes up 70% of the blend) with smaller amounts of Mourvedre, Carignan & Carbernet Sauvignon. The red wines tend to be full bodied.
The majority of the wine produced here is rose, of a delicate pale pink variety. Notes of red fruits with some spicy aromas and mountain herbs make for a fine, well balanced wine. Any white wine produced in this area is sold under the appellation of Cotes de Provence.
Notable vineyards
Chateau Coussin produces award wining organic wines in Trets. Try their gold medal winner Chateau l'Afrique.
Chateau Ferry Lacombe produces mainly rose, with the occasional red and white depending on the weather conditions. It is located to the east of Trets.
Chateau Grand Boise (also Trets) is a wine estate which offers holiday rentals too. You can try the traditional Provencal 'vin cuit' (cooked wine), which is like dessert wine, but not!
For a more Provencal experience, the Domaine Terre de Mistral offers wines, olive oils and other local produce in it's boutique. It is located near Rousset.
Domaine Sainte Lucie & Domaine des Diables is near Puyloubier and offers a good selection of all three colours of wine. It is renowned for the quality of wines and is the holder of many awards. Visits are by appointment only.
At the Domaine Le Loup Bleu you will be offered a walk through the vineyard, a tour of the cellar and a tasting of the estate wines. Call ahead to arrange an appointment. It is a small family-run, organic vineyard and can be found near Puyloubier.
Location