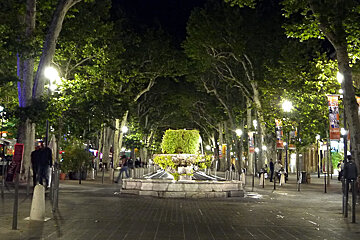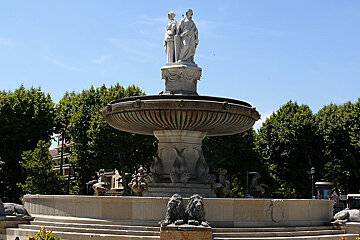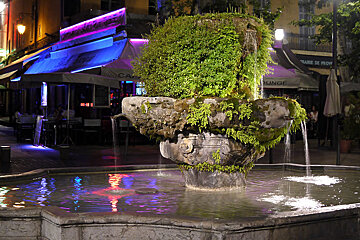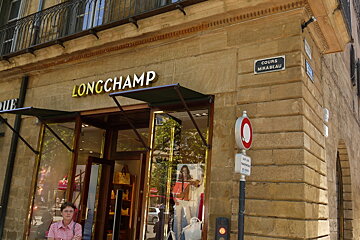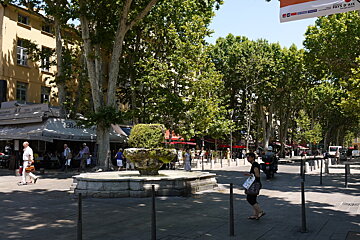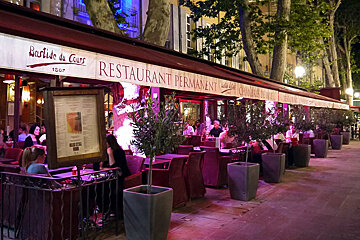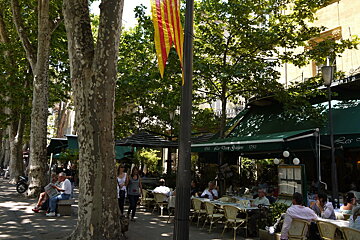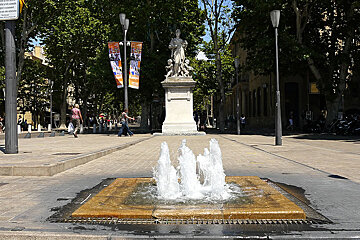 Cours Mirabeau, Aix-en-Provence
One of the most beautiful boulevards in France, if not Europe
This 400 metre long stretch of of tree-lined boulevard divides Aix en Provence's old town at its northerly end from the new to the south.
It's lined with cafés, galleries, bookshops, hotels and restaurants and has a large market every Saturday which pretty much takes over its entire length.
Cours Mirabeau is a popular place to go for a leisurely stroll, drink coffee and people watch, stop for breakfast, shop for food and to cool off in summer. It has four fountains, the most well known of which is the Fontaine de la Rotonde at the far end which also serves as a roundabout. The three statues that adorn the fountain indicate the principal activities of the city: Justice (oriented Cours Mirabeau), Agriculture (to Marseille) and Fine Arts (towards Avignon).
The three other fountains are the Fontaine des Neufs Canons (fountain of 9 canons) which was built in 1691, the Fontaine d'Eau Chaude (fountain of hot water) thanks to its 18 degrees C temperature and the Fontaine du Roi René (King René).
Worth knowing
The Cours Mirabeau was built in 1651 and originally had elm trees along its length, which were replaced by the current plane trees in the 19th century. At first it was used by the nobility who owned many of the 16th and 17th century buildings on the south side and who wanted a pleasant route for carriages and pedestrians. Over time more properties were built, and then businesses like cafes and restaurants moved in. One of the most famous cafés on the Cours Mirabeau is the Café des Deux Garçons which artist Paul Cezanne frequented.
Location