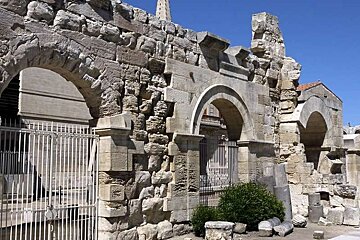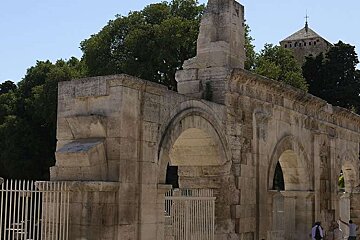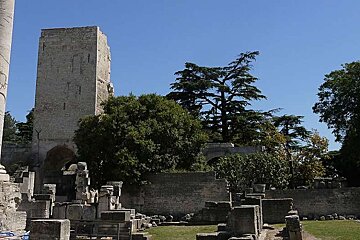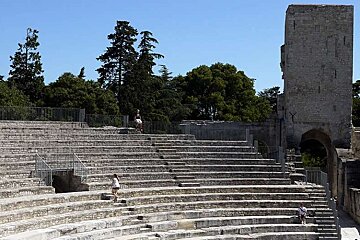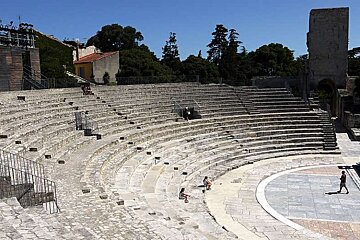 Theatre Antique, Arles
First century BC Roman theatre still used today
The Roman theatre in Arles is not to be confused with its somewhat grander neighbour, the Arles Amphitheatre. It is located just around the corner and is sadly not in as good a state.
The theatre was completed around the year of 14BC and was used for spectacles and plays for the general public to enjoy. It was able to hold 10,000 people and would have been lavishly decorated with columns and statues.
After the withdrawal of the Roman Empire, it began a steady decline and many stones were taken from the theatre to create new buildings in the vicinity.
It was largely left abandoned until the 17th century when it began to be used again by the Jesuit college and the convent of Misericorde. In the 18th & 19th centuries excavations began and some of the discoveries can now be seen in Arles' archaeological museums. These include an alter to Apollo and a statue of Augustus. The statue Venus d'Arles which was excavated here is now on display in the Lourve in Paris.
The theatre is 102m in diameter and has a seating section accessed by 33 steps. It is a UNESCO World Heritage Site and is today used for various festivals and concerts. It is open to the public throughout the year and there is a small entrance fee of €9 or €6 for concessions.
Location