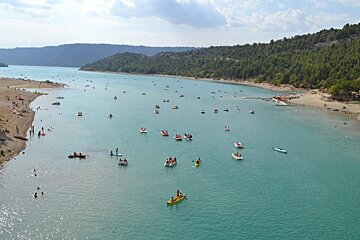 Coolest bathing spots in Provence
The clearest waters to make a splash this summer
Provence has hundreds of lakes, rivers, beaches, gorges and public pools where you can cool down when a heat wave hits the region, as temperatures sometimes reach over 40ºC.
Lakes, both natural and artificial, are dotted all around Provence, especially in the mountainous regions, while the rivers Rhone, Verdon, Durance or Sorgue have tranquil shores and a few river beaches where you can dip into calm waters. In the south of Provence, the Bouches du Rhone also offers some great Mediterranean beaches while the Calanques, dramatic cliffs with small coves, are located just outside Marseille.
There are also waterparks in the region, as well as public swimming pools in almost every town so you'll never be far from a good place to cool down. Here are some of our favourites.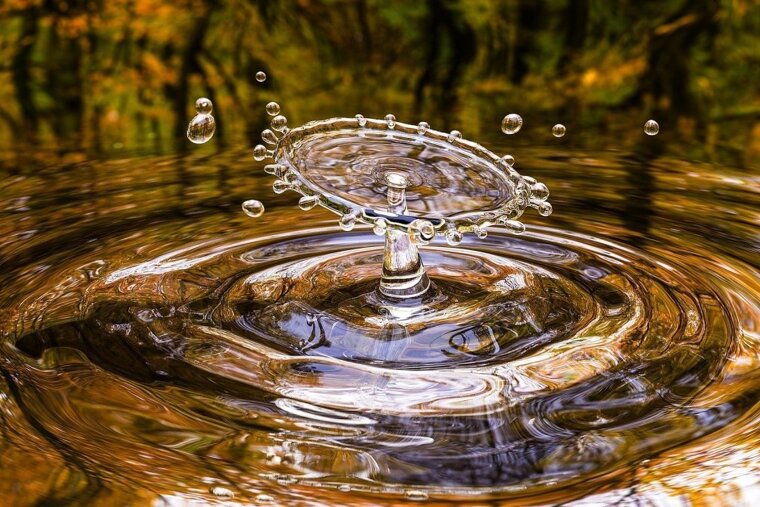 How clear are the Provence waters?
Should you want to look into it in more detail, then the Ministry of Health in France provides up-to-date information regarding the cleanliness of France's beaches and rivers.
The interactive map, which is available in English, allows you to zoom in on the beaches of interest and to review recent test results. Ranked from excellent (blue) to poor (red), the monthly testing and monitoring make it possible to assess the effects of wastewater sanitation and dirty rainwater runoff into swimming sites. Thankfully the places in Provence are mainly blue, excellent, with only a few areas where the water quality drops, meaning that we can swim in peace, enjoying calm and clear waters.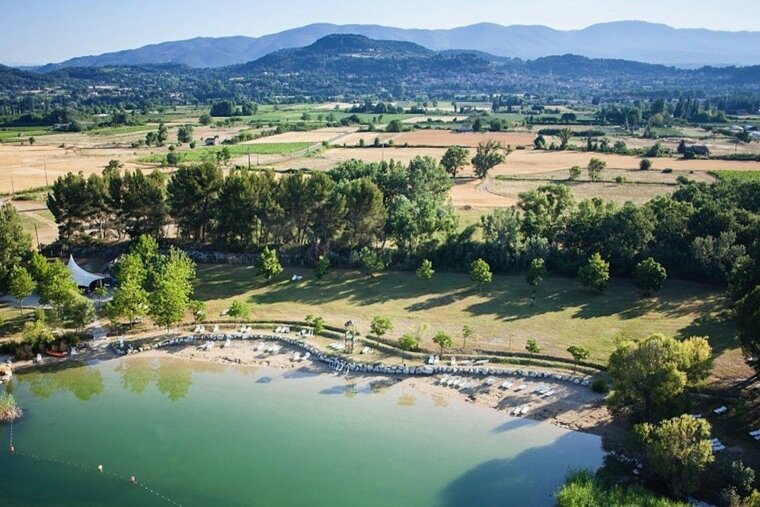 Lakes
Numerous lakes, both natural and artificial, are dotted all around Provence. These are great for swimming, watersports and even fishing. Many boast areas that have been prepared for swimming and sunbathing, with sandy beaches and facilities such as bars, toilets, lifeguards, shaded spots and showers.
There are a few of them in the beautiful Gorges du Verdon, including the Lac de Quinson, the Lac de Castillon and the Lac de Sainte Croix.
For those staying in Avignon, the Lac de Monteux is open year round and has pedalos, kayaking and an inflatable waterpark among other things. In the Luberon, there's the Val de Durance Lake near Cadenet, the Etang de la Bonde in Cabrières d'Aigues and the Lacs des Buisonnades close to Manosque. The list is endless.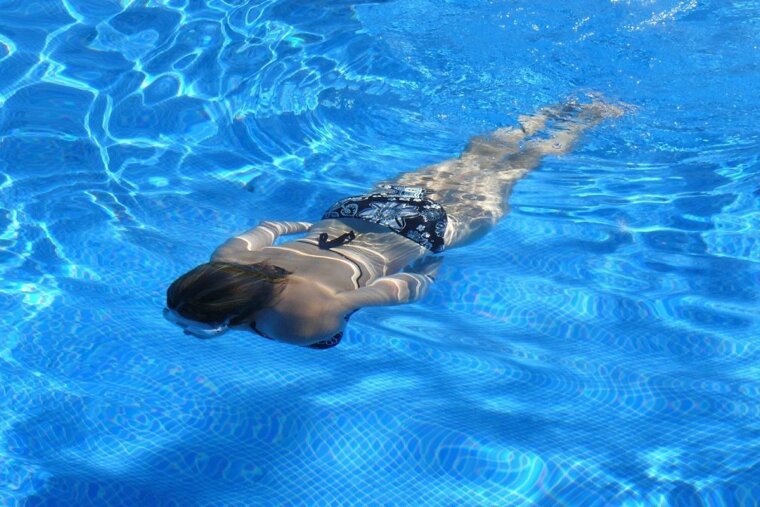 Public pools
There are also public outdoor swimming pools in almost every town and village in Provence. These are usually open during the summer and offer basins for adults and children, as well as lifeguards and snack bars or restaurants. For a small fee, you'll be able to cool down in complete safety.
Try the Gardanne Pool near Aix which even has slides, the Viton Pool in Apt or the Bollene Pool near Orange.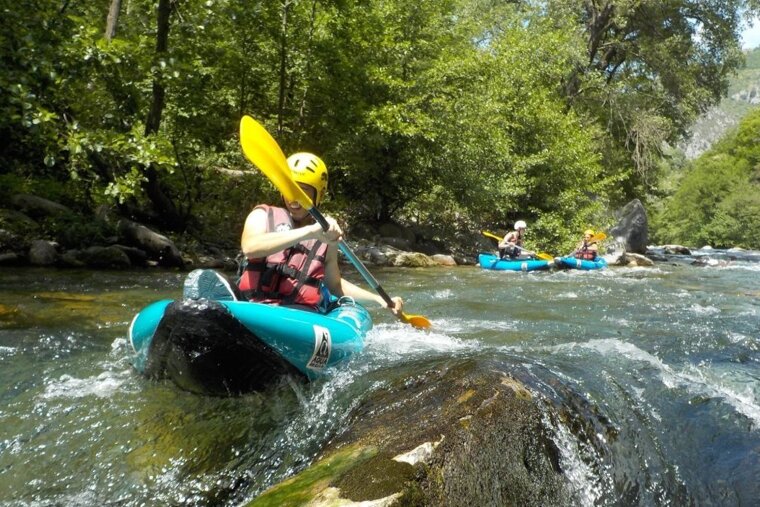 Watersports
Provence's rapid rivers and calm lakes are a paradise for watersports. Kayaking, white water rafting, canyoning, wakeboarding and even diving are on offer here.
Hot spots include the Gorges du Verdon or the Sorgue River, but you can really find them all around Provence.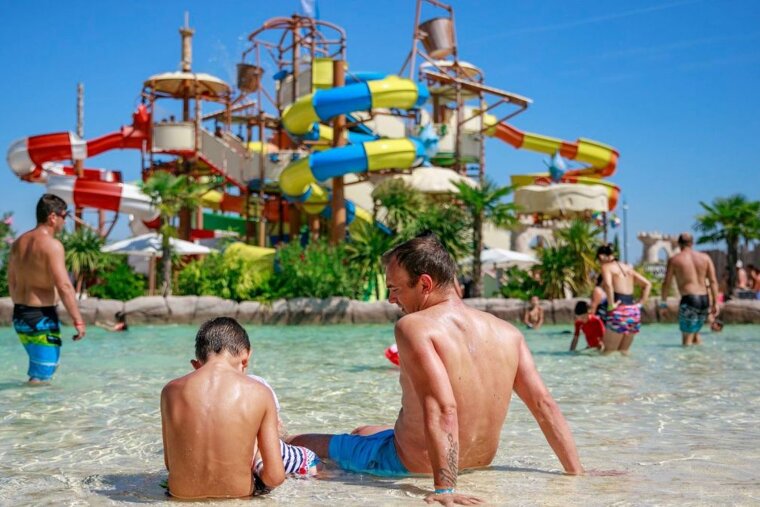 Waterparks
For some family fun, Provence has a great selection of waterparks. France's biggest one is actually located in Monteux, not far from Avignon.
Wave Island has everything for a refreshing day out with the little ones. Its various water based attractions include all kinds of slides and pools plus an artificial wave for surfing, bars, sunbathing areas and even bungalows to stay in.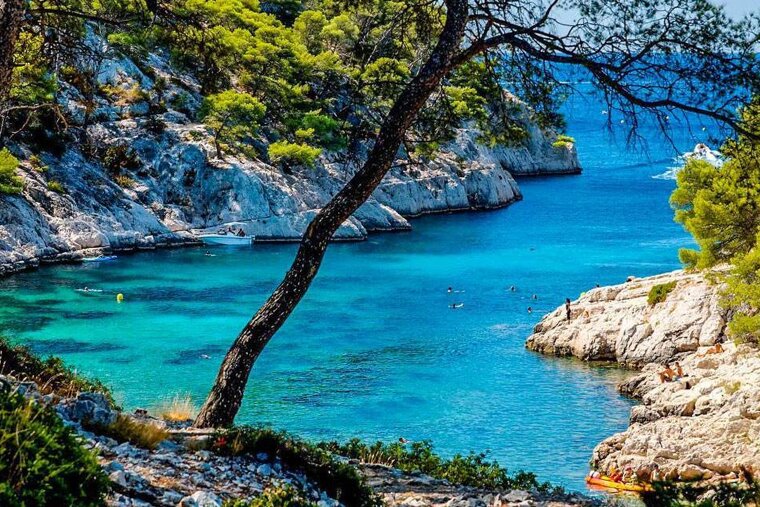 Beaches
The Bouches du Rhone region, located in the south of Provence and encompassing the towns of Aix-en-Provence and Salon-de-Provence, as well as Marseille, has some great urban beaches.
La Ciotat and Cassis are just two of the villages with a beach on their doorstep. The Calanques National Park is also located here, between Marseille and Cassis.
This wonderful stretch of coastline has impressive cliffs with tiny little bays hiding secret coves. Try La Calanque d'en Vau or La Calanque de Sormiou. You will need to walk to access these coves so better choose a day that's not too warm!
Also remember that the French Riviera, with the wonderful beaches of Saint-Tropez, Cannes, Antibes, Nice and Monaco, is just a short ride away.