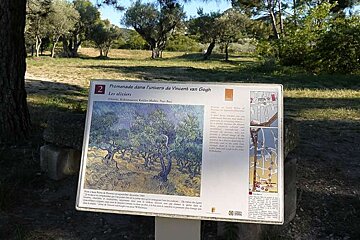 Monastere de St-Paul-de-Mausole, St Remy de Provence
The asylum where Vincent Van Gogh retreated after cutting off his ear
After your explorations in Glanum, it's worth visiting the asylum where Vincent van Gogh spent one year after the dramatic incident in Arles. The Monastère de St-Paul-de-Mausole is just a short ride from Glanum. Since 1605 it has functioned as a psychiatric hospital, remaining so today.
A wing of the building is open to the public.
Van Gogh occupied a room in the men's pavillion for 53 weeks, and it has been reconstructed at the top of the Romanesque staircase.
The door to a room stands open: a spartan bed, a simple chair, drab curtains, bare walls. He was also given use of a second equally bare room to use as his studio, and a third room was used to store his paintings.
The field he could see from his window fascinated him, he painted it 14 times, and is has now been transformed into a pleasure garden open to the public. The tree-lined path that leads to the chapel has reproductions of the main paintings Van Gogh produced during his stay which includes the famous "Irises", "Starry Night", "Oliveraie", "Champ de wheat with cypresses", "The first steps", "Wheat field with lawnmower", "Garden of the Saint-Paul hospice", "Self-portrait" and more.
Downstairs you will find an austere cloister with a surprisingly gentle courtyard.
When to come
Open every day, you can find out more on their website.
Location