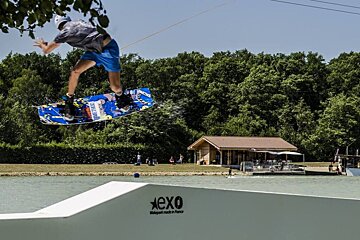 Exo 84 Watersports, Lamotte-du-Rhône
A centre dedicated to wake-boarding and waterskiing
This watersports centre is based on a 10 hectare lake with boxes and features in the water that you can practise your wakeboarding moves on.
You don't need to be an expert to come here though, as there are plenty of things for beginners to try out too.
Instructors and guides are on hand to help you learn or improve your skills.
The site also has a shop, snack bar and relaxation area.
Safety equipment and other gear can all be hired on site.
Directions
The lake is situated in between the towns of Bollene and Pont St Esprit, just North of Orange. See streetview & map links above to help locate them.
Location