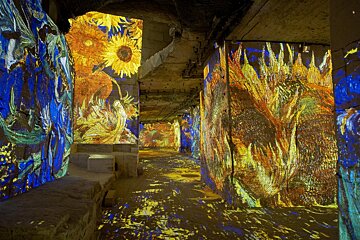 Vermeer, Van Gogh and Mondrian at the Carrières de Lumières, Les Baux
A unique, immersive art experience at the Carrières de Lumières in Les Baux
The Carrières de Lumières are illuminated by the works of Van Gogh, Vermeer and Mondrian this summer
There are two different immersive art experiences to enjoy - The Dutch Masters
This digital exhibition presents the genius of the painters of the North through a complete immersion in authentic paintings that are faithful representations of nature and its themes. Explore the reality of daily life, following in the footsteps of the great masters who represented the ordinary in an extraordinary way. Painting light and atmosphere is the main theme of the exhibition itinerary. Direct or subdued, cold or warm, the light reveals the facades and the privacy of family homes.
Mondrian - The architect of colour.
This immersive exhibition presents Mondrian's iconic works, composed of squares of primary colour, which have long inspired artists of every kind and influenced pop culture. Graphic design, fashion, design, architecture, music… Mondrian created an aesthetic and timeless grammar that opened the way to abstraction.
For more information and to buy tickets, click on the web link.
Open every day until 30th September 2023
Venue
Carrières de Lumières
Route de Maillane
Location