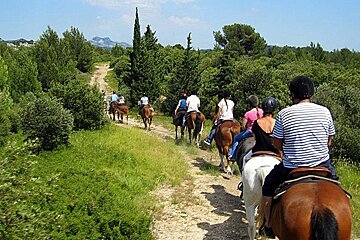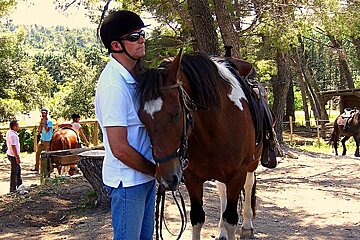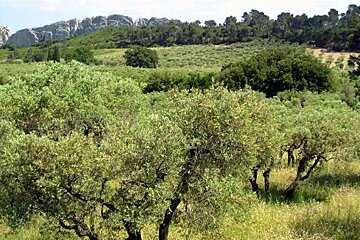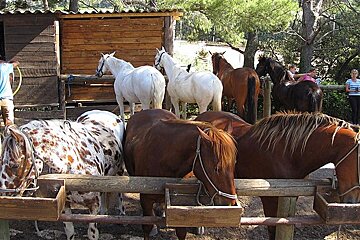 Horseback Riding in the Alpilles Review
A horseback outing into scenic hills suitable for beginners or experts
Les Alpilles is a relatively little-known range of hills to the south of St Remy de Provence, awarded Parc Naturel Régional status in 2007. The peaks rise to a modest 500m, hence the name 'little Alps'. Inhabited and farmed by man for thousands of year, these craggy limestone hills are dotted with pretty villages, roman remains and centuries-old vineyards and olive groves. They are also criss-crossed with paths and tracks, making them ideal for walking, mountain biking and, for the less energetic, riding.
Several stables in the area offer the chance to explore on horseback: we opted for Le Petit Roman at Maussane-les-Alpilles which caters for children and adults of all levels. As one of our party was a complete beginner, we chose the shortest outing, a two hour ride, and requested to join a suitably sedate group.
The trouble with horses is they tend to be flighty beasts. Evolving on the plains of Africa as the favourite meal of every sharp toothed carnivore has, not surprisingly, made horses prone to jumpiness. Experience has taught me they have a tendency to gallop off at the slightest fright – an unnerving and sometimes painful experience if you happen to be on its back at the time. We were very glad to discover le Petit Roman has the perfect horses for beginners: quiet, obedient and amenable to being ridden by amateurs.
We were met by Sébastien, our friendly (and fully qualified) guide, and allotted a horse suited to our experience level. Much care was given to our safety – hard hats were obligatory, girths and stirrup lengths were checked meticulously. Unusually, Western-style saddles were used. These are slightly less uncomfortable than English-style saddles, with the added advantage of a raised pommel at front to grab in a wobbly moment.

We were given a few words of basic instruction - keep your heels down, don't yank on the reins, learn forward going uphill and back going downhill – and we were off into the countryside and along winding tracks.

The horses know their job well and were quite content to follow the horse in front. Very soon we were able to relax and enjoy the spectacular scenery. Anybody familiar with Van Gogh's paintings will recognise the Alpilles landscape that he painted so often: cypresses, olive trees and craggy peaks under bright blue skies. The scenery changed constantly throughout the ride: we passed under limestone cliffs, through ancient olive groves, under tall Aleppo pines, along canals and over ridges. The perfumes of the Provencale garrigue were ever present as the horses crushed rosemary, thyme and cistus underhoof. At one perfect moment on the summit of a ridge, a bird of prey, perhaps a rare Bonelli eagle, soared overhead. In my opinion, there is no better way to explore the Alpilles, admiring the view while the horse does all the work. All too soon, the ride was over. We dismounted somewhat stiffly with only slightly sore bums, and thanked our mounts for carrying us safely and uncomplainingly.

Le Petit Romin will match your riding level to a suitable group. If you want to canter and gallop, make sure you state this when you book, or you can ask for a private outing. Longer rides of a half day, full day or weekend outings are also available. Would I recommend this outing? Yes, but bring Ibuprofen for the aching muscles the next day.
Key facts
Rides are available all year round
Several stables are located in the Alpilles area
Maussane-les-Alpilles is 30km (a 50 minute drive) south of Avignon
Wear shoes or boots with a low heel and comfortable trousers. Hard hats and all other equipment are provided.
Avergae cost is 30€ per person for a two-hour ride
Location