Kayaking with Goud-Canoe
Head 50km north of Avignon for a fantastic kayaking experience
With the many rivers around Avignon there are plenty of opportunities to kayak in gorgeous natural surroundings. We headed just 50 kilometres north-west to the village of Goudargues, near La Roque sur Ceze, to try Goud' Canoe's "Nature" package; which is an 8km route with plenty of picnic areas, swimming spots and sun-bathing sites along the way.
The water was crystal clear and glassy-smooth as we launched the kayaks from under the bridge in Goudargues. The guys at Goud' Canoe made sure we had everything we needed for the day and they gave us a run-down of the terrain and a map with some of the things to check out on our way down the river. We all had experience in paddling a kayak although it is a simple skill to pick-up and the river doesn't contain many difficult technical parts.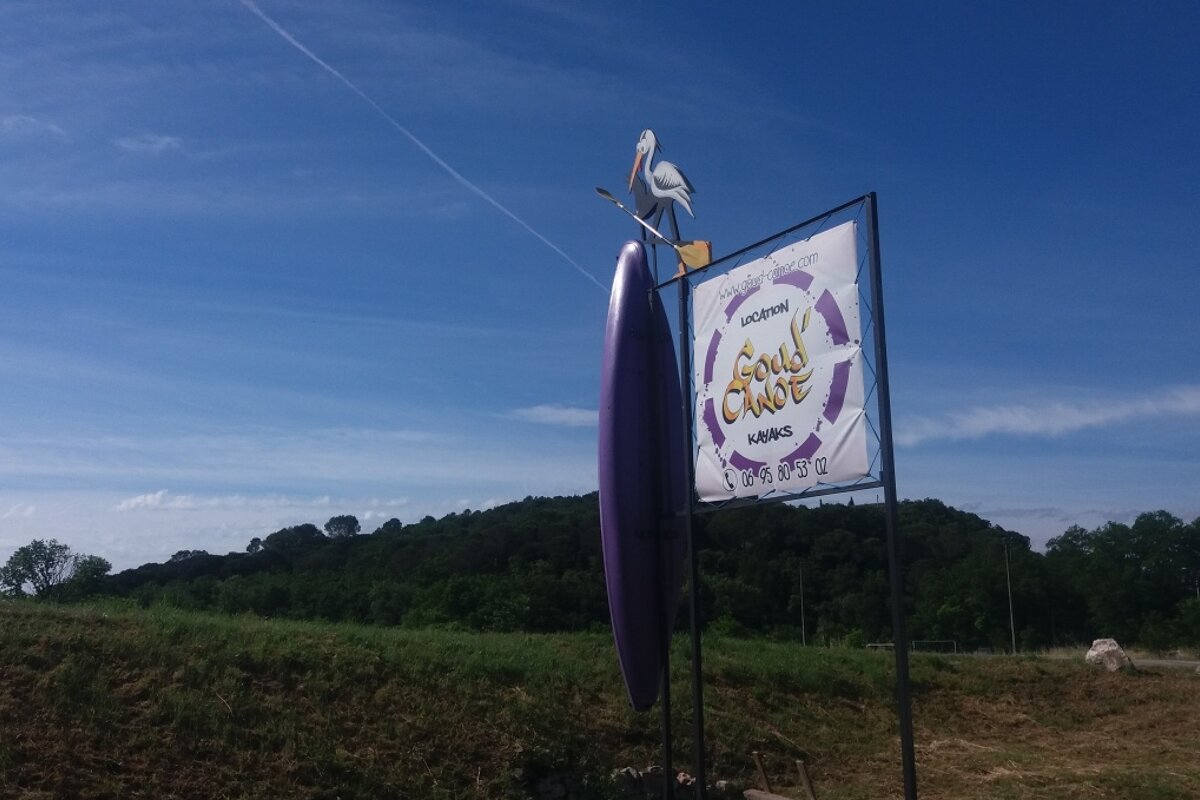 ---
It felt good to be out in nature and getting active in some fresh air. The river was gently flowing towards our destination meaning that with just a little effort we were arrowing across the top of the river with only a few fishing lines on the banks to avoid for the first part of the journey.
The guys at the base told us that a swimming spot, called La Bastide, complete with rope swing, was the perfect place to stop. It was only around a 30 minute paddle from our departure point and when we arrived there it felt like we had found our own private lagoon. The sun bounced off the water and the trees hung out over the top of us as we paddled into this hidden sanctuary, where there were plenty of trees and walls to jump into the water from.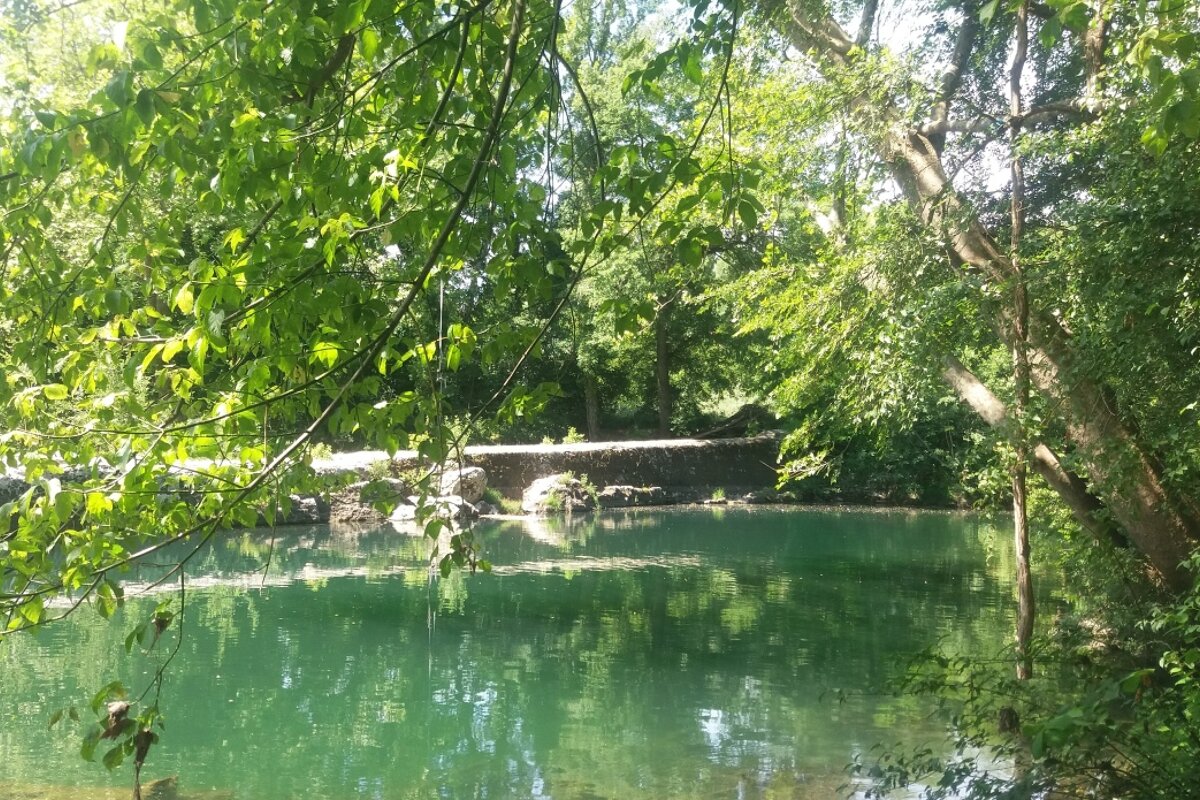 ---
We parked the kayaks up on the shore and began climbing trees and jumping into the deep clear water from around 20 metres above There were ladders nailed to the trees making it easy to climb, and diving in to the water from the shorter wall felt so refreshing in the hot sun.
The most hilarious thing was watching each other attempt to stay on the rope swing and ending up in some strange accidental yoga position before falling backwards into the water. We really had chosen the perfect day for a swim as there wasn't a cloud in the sky and the water was fresh and clear. We larked around for a while longer before deciding to have a quick bite to eat on the stone wall and heading further on upriver. It was so hot that within 15 minutes of picnicking on the wall we were dry without even the need for a towel.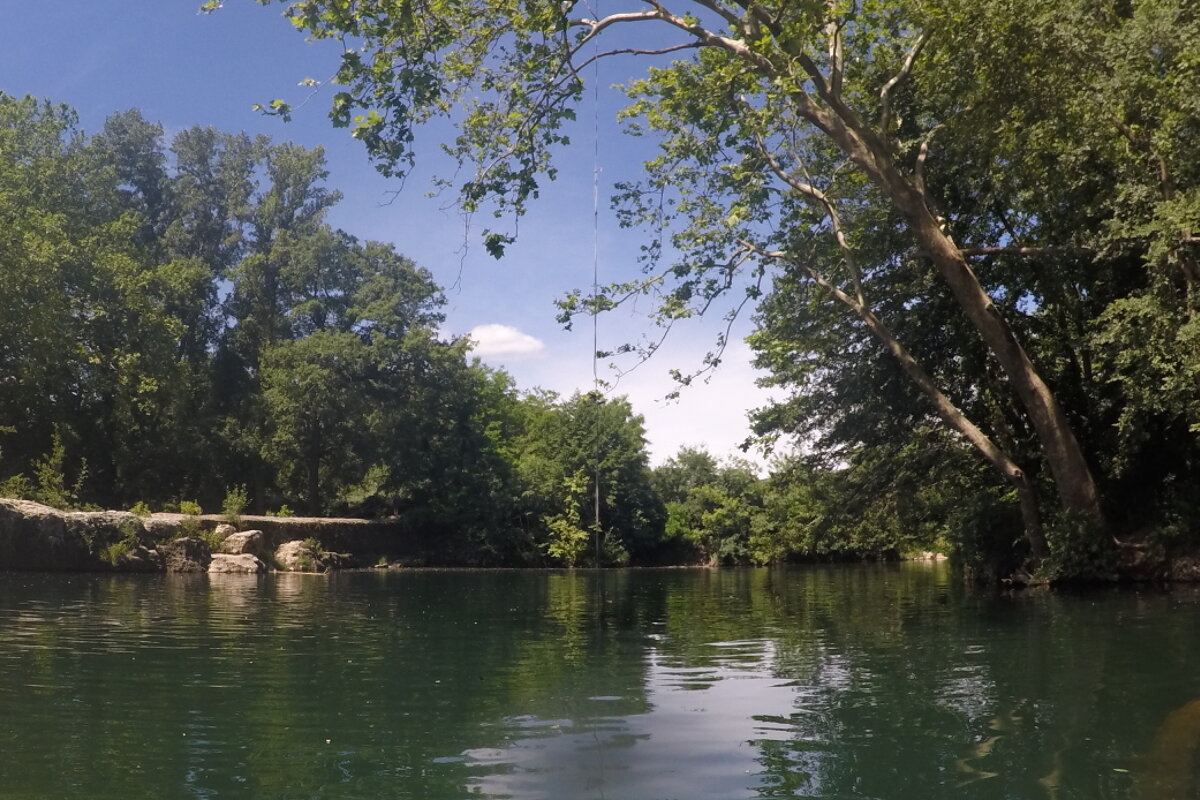 ---
As we continued on our way fish would sporadically jump out of the water ahead of us and we kept pace with a couple of swans for a few hundred metres until they decided to stop in some reeds to the side. There's plenty of wildlife to see as you cruise along La Ceze in your canoe, and without a time limit on your day you can stop for a long picnic or take it very easy along the water and still make good time.
To canoe this route solidly would take around two-hours but the guys at Goud-Canoe were happy for us to take as long as we wanted and then just give them a quick call for pick-up. I would recommend planning for a few stops, taking some food and really making the most of the day.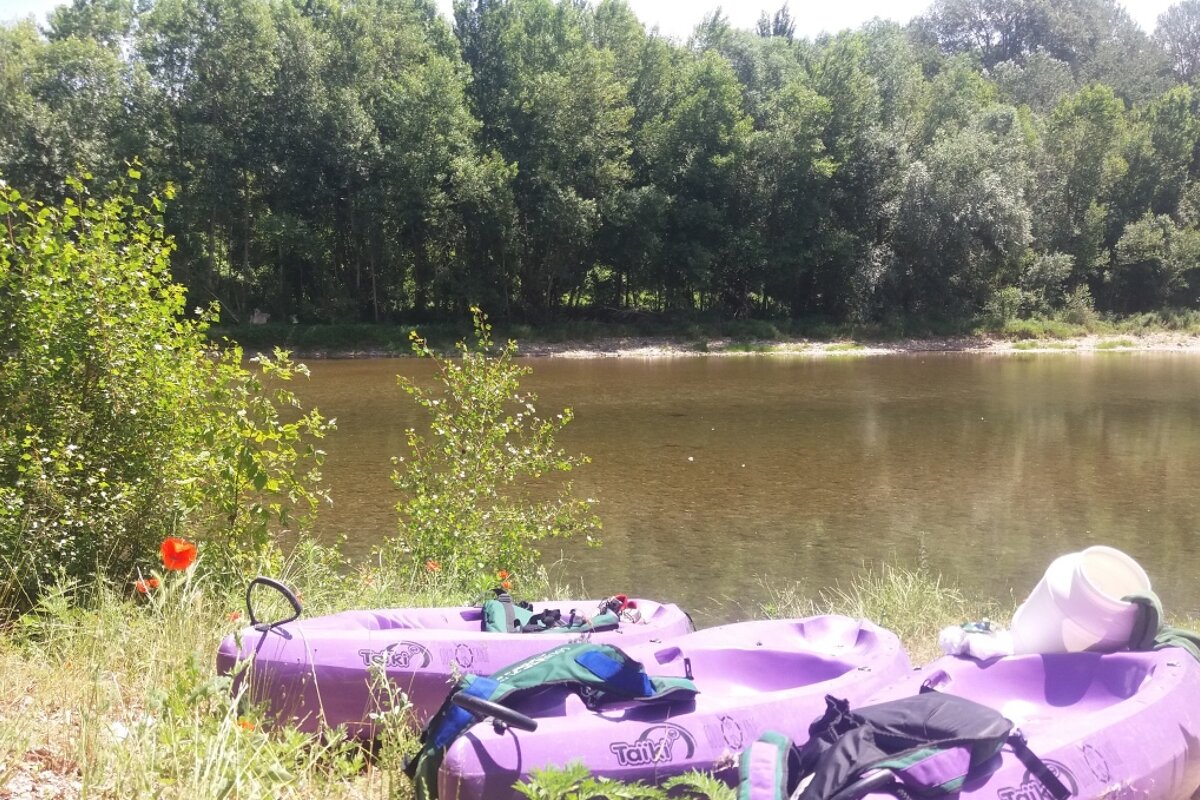 ---
To add to the excitement of the river there are a few rapids to navigate, although I use the term rapids loosely as a person of any ability will easily be able to paddle themselves through without any need for assistance. We paddled alongside cliffs and underneath hanging vines for some shade and eventually came to the loose stone beach where we wanted to have some more food and to relax for a while. Our dry-bags had all the essentials in them; wine, sun-cream, sandwiches, fruit, water and a few books. We dragged our boats up to a safe place and then lay in the sun knowing our end-point was less than 2 kilometres away giving us plenty of sunlight left to enjoy.
Experienced kayakers who are interested in some challenging routes will not find many along this 8km stretch of river, but for a family or a group of friends who just want to explore around at a gentle pace then this route is perfect. Goudargues is also a gorgeous little town built on a canal and has an array of cafés and restaurants to choose from after your time on the water.
The cost of a single canoe hire for the "Nature" package with Goud' Canoe is just €12 - a bargain for a stunning day out on the river.
Location