Provencal cookery course in Aix en Provence
A morning market visit in Aix-en-Provence followed by a culinary class
There are plenty of things to do and see in Avignon, and learning to cook local produce with a local chef is a great way to learn about Provençal cuisine.
Meeting Mathilde at l'hotel de Ville where our market tour began at 09:45 she started with an engaging history of Aix-en-Provence, which she described as Paris's 21st quarter, due to the quality of life here. Her brief history lesson, spanning from before the Roman era right through to the present day, tuned our minds into more than just the food we were about to buy and cook; but really made us consider the reasons why life and culture was as it was in Aix.
The market in Place Richelme was only a short walk away and Mathilde began educating us as to the different vendors who sell their wares here. There is a market of some description in Aix every day; although Tuesday, Thursday & Saturday are the main market days.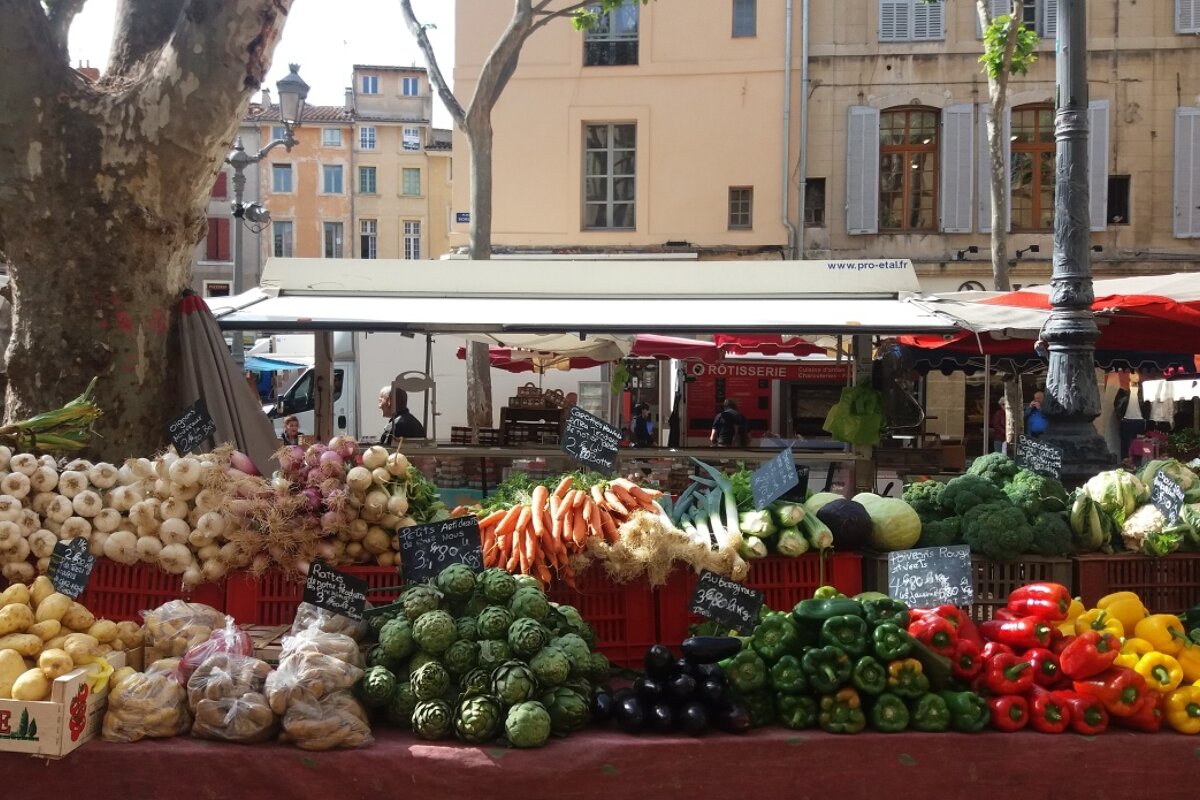 "You will never see a French person eating a strawberry out of season in Aix" Mathilde told us. This was a nod to how dedicated the French here are to the different seasonal fruits and veg from the region. Half the stalls in the market only sell what they can grow themselves, with other merchants having bought their products from a warehouse close by to "resell"; hence why there is the odd pineapple and banana to be found too.
The specialist strawberry stall in the market that day had picked one-hundred punnets within the last twenty-four hours to sell at the market. There are asparagus and cherry stalls who all have a similar story.
Mathilde knows the local sellers by name and not only are they pleased to let us try some samples; they insist - taking delight in seeing our reactions to pickled raw garlic (it tastes much better than it sounds). There's no pressure to buy olives, strawberries, cherries or the jam that we sampled as Mathilde had already chosen the best produce for us to cook with later - although we were made to make a wish on eating the first cherry of the season.
The market at Place Richelme has a nearby coffee shop which roasts beans from all over the world and that provided the group with a chance to get to know each other and we quickly found that none of us were anywhere near expert chef's - rather we were only interested in finding and cooking good food locally.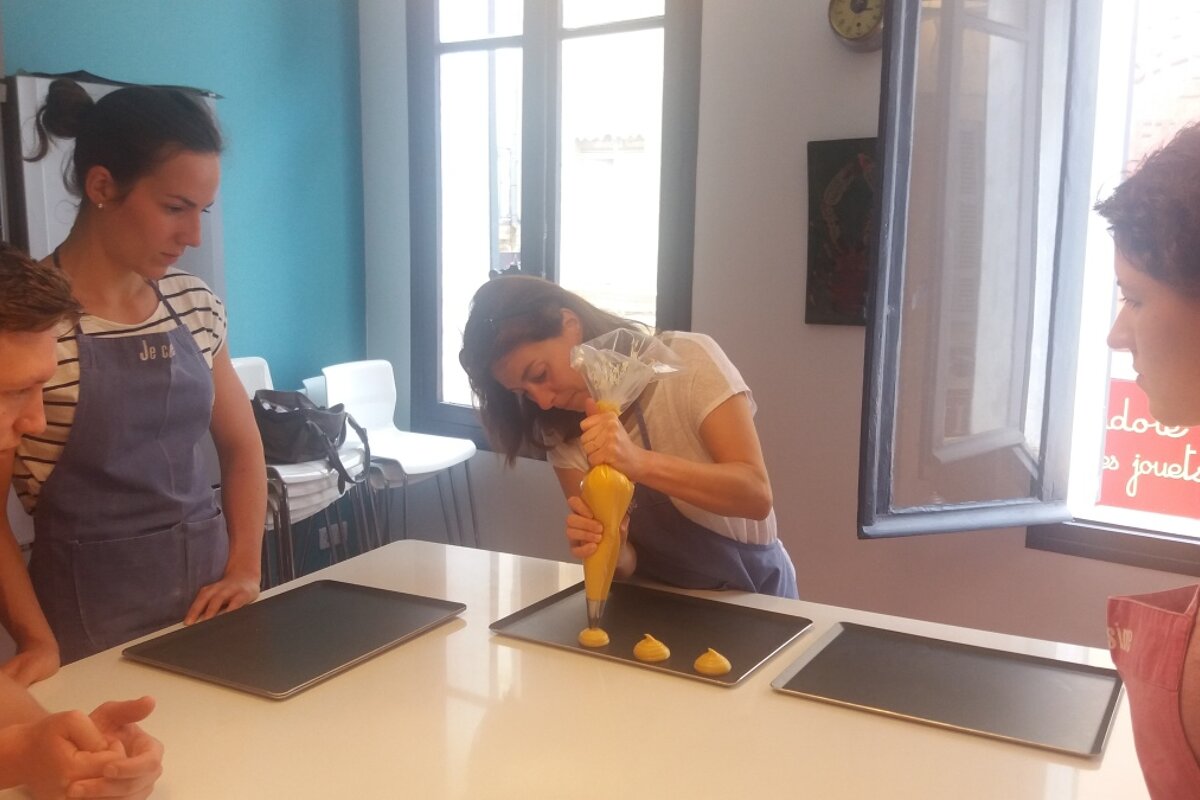 Mathilde's studio is a five minute walk away through an unassuming door and up a flight of stairs; her kitchen is homely and adapted exactly for purpose. There's an island counter in the middle that is perfect for the five of us to work around as Mathilde guides us and pleasantly instructs in fluent English. Of course there were some nervy moments from everyone at the start, even cracking an egg became a burden as we took turns in mixing up the "choux".
All five of us in the group had a reasonable amount of suave with the utensils, although some knife-work was gleefully dangerous. No problem though; Mathilde was on hand to show the correct way to chop basil or just exactly how to seed a vanilla pod.
We started by preparing the dessert first, mainly to not contaminate the cream or pastry with any of those potent garlic or onion aromas we'd be working with later on.
One of the American girls in the group decided she would take more of a back-seat and preferred to watch the goings on, but my advice is to get involved; skin that tomato; shred the courgette; stir the pot. It puts everyone else at ease and the course becomes an adventure of cuisine. Seeing a basket of fresh ingredients come together before you in quite a simplistic way really inspires you to cook more for yourself and leave all the excuses behind.
I popped open the bottle of Rosé to a cheer; our duties finished for the day, it was time to enjoy what we had created. Mathilde showed us how to beautifully plate the starter and everyone was extremely surprised with the outcome after it had only been cooked in lemon juice. When the time was right she served us our main course and poured more wine for everyone. Then she insisted we design our own dessert, which resulted in some inventive outcomes! A coffee was served afterwards.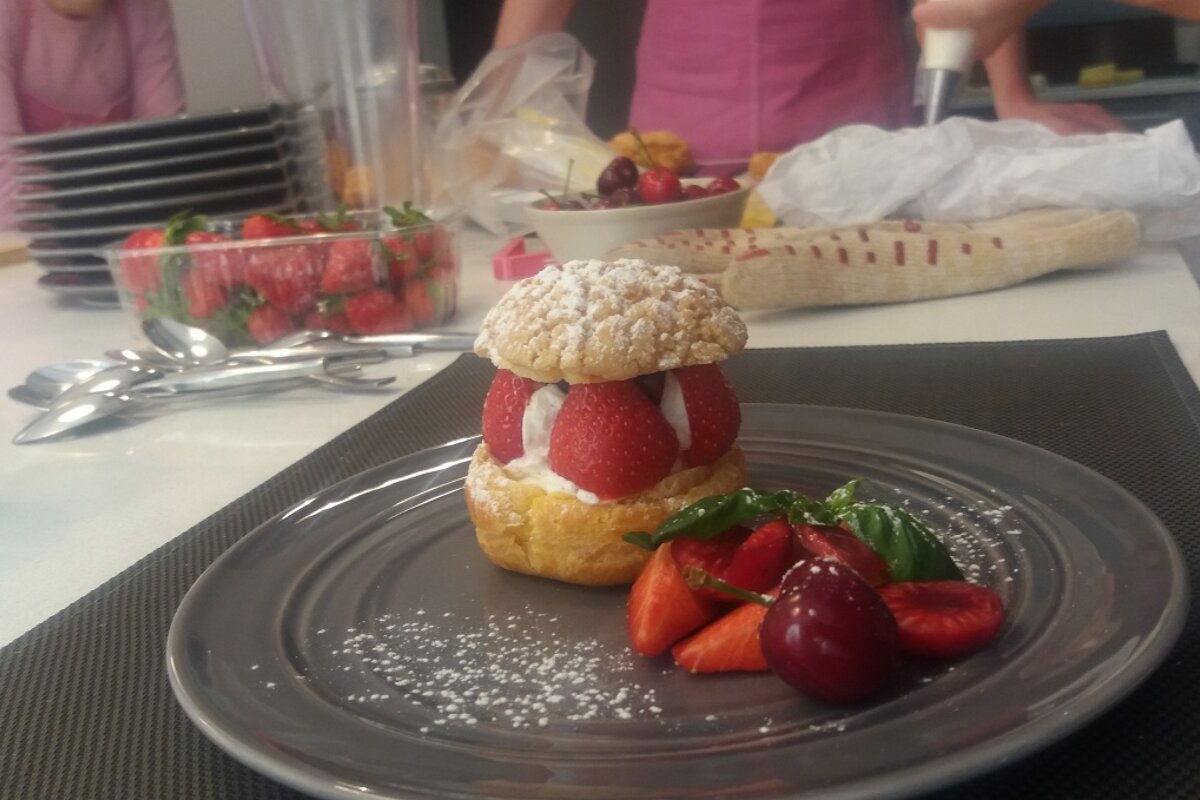 "l'Atelier cuisine de Mathilde" has been running for three years since Mathilde gave up her position in the business world to follow her long standing passion in Aix-en-Provence. There are a variety of classes, courses and market visits that she offers. The half day market visit & cooking course is priced at €85.
Location