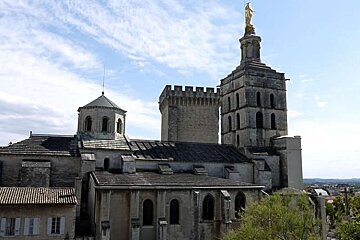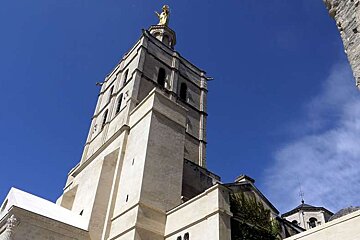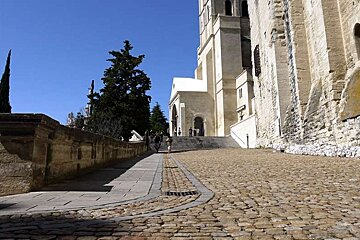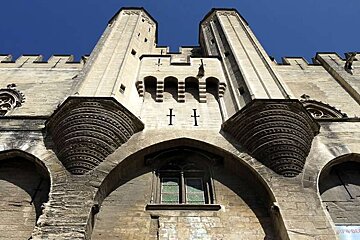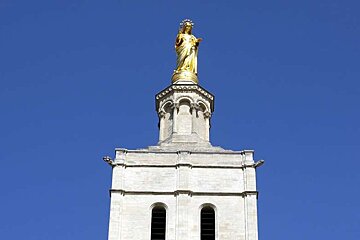 Cathedral Notre Dame des Doms, Avignon
Romanesque Catholic cathedral
With the arrival of French pope Clement V, Avignon was transformed into a religious and artistic centre. The grand Notre Dame cathedral has existed since the twelfth century, but the current building has been subjected to a number of alterations. The eye-catching gold statue of the Virgin Lady on the top of the tower is six metres in height and weighs 4,500 pounds.
The name of this cathedral "Notre-Dame des Doms" comes from the latin Domus episcopali meaning "from the Bishop's house". Historians tend to believe that from the 4th century onward there was here a basilica and close to it the bishop's residence. Destroyed by the Saracens in 731, it was rebuilt and consecrated on October 8, 1111.
In recent years, the cathedral, which belongs to the French state like all existing churches built prior to 1905, has been restored and enhanced in more than one way. For example the carillon now includes 35 bells ringing liturgical melodies all year long.
The cathedral also holds two organs :
On the one hand the Italianate gilded organ in the gallery was built by Lodovico Piantanida from Lombardy. It was restored in 2005 by "Fabrica d'organi Mascioni" from Azzio (Province of Varese, Italy).
On the other hand, there is in the choir a 1902 organ by Cavaillé-Coll which was restored in 1954 by Puget of Toulouse, France.
In the chapel devoted to Jean XXII, you will find various priceless religious objects, reliquaries and vestments belonging to the diocese of Avignon.
Masses are held daily, early morning during the weeks at around 8:00am and at 10:00am on Sundays.
Visitor comments
"This is one big church! the exterior beauty is surpassed only by the interior. The vaulted arches are beautiful and the carvings are very detailed." - Trip Advisor
"It is still worth going inside to see this cathedral. It is not ornate or too over-the-top. The interior is quite lovely." - Trip Advisor
"Nice cathedral" - Trip Advisor
When to come
The church can be visited free of charge between 4:30pm - 6:30pm during the summer months.
Location