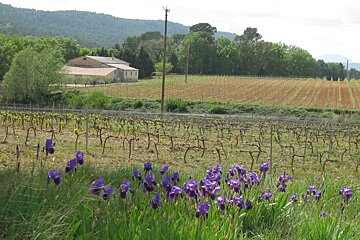 Chateau de Majouliere Vineyard, Villecroze
12 hectares of AOC Coteaux Varois land in the department of Var
The château was created in 2007 by the family Reher-Van Baelen, but wine has been produced in this area for centuries. The wines, most of which have been established for 25 years or more, are composed of Syrah, Grenache, Cinsault and Cabernet Sauvignon varieties.
The soil is treated in an ecological manner without the use of herbicides, pesticides or man-made fertilizers. The grapes are only harvested manually with the utmost care.
For the production of red wines, the Grenache, Syrah and Cabernet Sauvignon varieties are used, resulting in a strong, structured and harmonious wine. The rosé wines are made from Cinsault, Grenache and Syrah producing a supple and fruity wine. In April 2009, Rolle (Vermentino) and Sauvignon Blanc were planted for the introduction of white wines.
They are open for wine tastings on Mondays, Thursdays and Fridays from 14:00 to 18:00.
Location