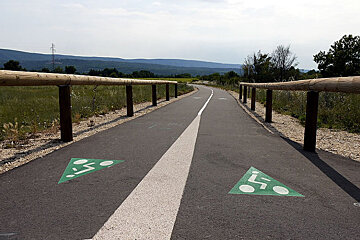 La Veloroute du Calavon
Easy family cycle along purpose build cycle path in the Luberon
Following the Calavon river, this 28km long path was previously a railway track and is a great way to explore the hilltop villages around the area.
The 'Veloroute du Calavon' is currently the only purpose build cycle path in the Provence area but there are plans for expansion and hopefully other similar family friendly routes will soon be available. Cycling alongside fields of lavender and poppies this is truly a Provencal experience. Gradients are not too challenging (no more than 2%) with a smooth hard surface, and the route is safe for younger family members as the track is reserved for non-motorised vehicles (except for a stetch of 2.5km at Le Chene).
The route is well sign posted along the way with good distance markers so you can choose to cycle as much or as little as you want. And depending which end you start from...you will be either gradually gaining height or gradually loosing it. I would choose the latter!
So starting at Saint Martin de Castillon follow the route west towards the town of Apt, a beautiful Provencal market town since Roman times. This is one of the larger towns that you will pass through, although there are plenty of pretty villages along the way to stop and enjoy the views, medieval buildings and abbeys.
Continuing westwards towards Le Chene and on to Pont Julien you will notice the purple fields and the wonderful scent of lavender. When you reach Pont Julien it is worth taking a break to ejoy this amazing feet of Roman engineering; a stone built arch bridge over the River Calavon which dates back to 3BC. Originally the bridge was part of the Via Domitia, an important Roman road connecting Italy to France. It was used for car traffic up until 2005 when a replacement was built to ensure this amazing bridge was preserved. That adds up to around 2000 years of continuous use!
Currently the cycle path ends in Les Beaumettes, although the extension plan means that it should eventually carry on to the town of Cavaillon further west. The pretty village of Les Beaumettes also has lots on offer, from 18th Centrury castles to Roman villas, cave houses in the ruins of a chapel and the usual Provencal style markets.
Distance : 28km
Time : 1.5 - 3hrs
Vertical Gain : 170m
Find transport and further information here.
What to bring
IGN Map 3342OT (Manosque Forcalquier Pnr du Luberon) covers this area.
Water - One of the biggest problems in Provence in the summer is the heat. Fit two bottle cages to your bike and take 750ml bottles with electrolyte drinks.
Sun Cream - The hot southern summer sun means you will burn quicker here than at home. And remember the backs of your hands if you are not wearing cycling gloves!
Windbreaker - Although it may be warm in valleys temperatures can drop rapidly as you climb, weather can chage quickly and the fast descents can cool you down fast.
Snacks - Energy Bars and gels are a very good idea if you are planning a day on the roads.
Mobile Phone - Being able to contact someone to pick you up if your chain breaks is helpful.
Money - You may need it in an emergency or just for a beer at the end of the day.
Basic Repair Kit - You can't fix everything by the side of the road but not all breakdowns require the day to end.
More inspiration...
Find where to hire a bike in Provence.
Location