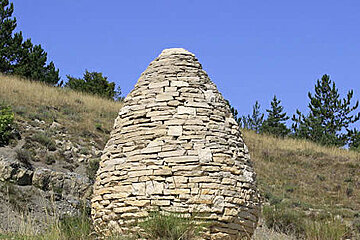 Refuge d'Art multi-day walking tour
150 km loop with integral works of art along the route
This walking route is for strong walkers or hikers, and can be completed in anywhere from 8-10 days.
The 150km route and the art along it are the brainchild of British artist Andy Goldsworthy, creating a unique concept in Europe.
Linking up three Sentinels (stone cairns, each one located in the heart of a valley), the circuit follows ancient paths among the remnants of an agricultural way of life that was once intense. Goldsworthy wanted to mark the circuit with Refuges in the form of disused houses belonging to the non-protected rural heritage, including chapels, farms and sheepfolds. These have now been restored, and a specially-designed sculpture has been incorporated into each one. They provide shelter for a pause along the route, or indeed, in some cases, the possibility of an overnight stay.
You can find out more about the route, the refuges and sentinels on the Refuge d'Art website.
Worth knowing
This is the world's largest collection of works by Andy Goldsworthy in a public space. But, far from being a form of cultural overkill, it reveals itself gradually, often at the rate of just one Refuge or Sentinel in a day's walk.
What to bring
You can pick up a copy of the Refuge d'Art trail map at the Musée Gassendi for 2 euros.
Location