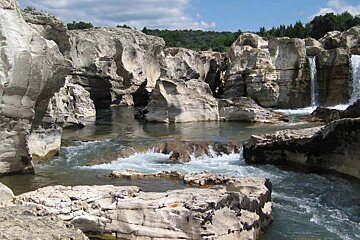 La Roque sur Cèze, Provence
Pretty medieval village with waterfalls
A peaceful place built on top of a hill by the Cèze river.
Nearby are some impressive waterfalls, and swimmning at the Cascade de Sautadet can be dangerous, but beyond the waterfalls there is a beach where it's much safer to enjoy the river.
History & Culture in [locality]
Dominated by the traces of the former castle and its chapel, the village with sloping cobbled streets and houses made with creamy stones and curved-tiles cornices, offers a breathtaking view of the Cascades du Sautadet, an exceptional natural site which adds to the attraction of the place.
Sights & Attractions in [locality]
The main bridge over the river was constructed between the 12th and 14th centururies. Accordingly, and for its style, it was made an historical monument in October 1980. Some call it the Pont Charles Martel, although he has no actual direct or indirect link with the history of La Roque sur Cèze.
In September 2002, a major flooding of the river caused heavy damaged to the bridge and restoration work was carried out in spring 2014.
Things to do in [locality]
The main attraction of the area is of course the stunning waterfalls.
The Cascades Sautadet are a geological curiosity: huge boulders carved by flowing water which has formed many potholes. A channel deviated water to the mill, and there are still some remains of this to be seen. This channel is now partially used to reduce the strength of the main waterfall. Please note that this site classified as Natural Area is not suitable for swimming.
Where to stay in [locality]
The village itself is particularly small, however there is plenty of accommodation in neighbouring towns and villages.
Location