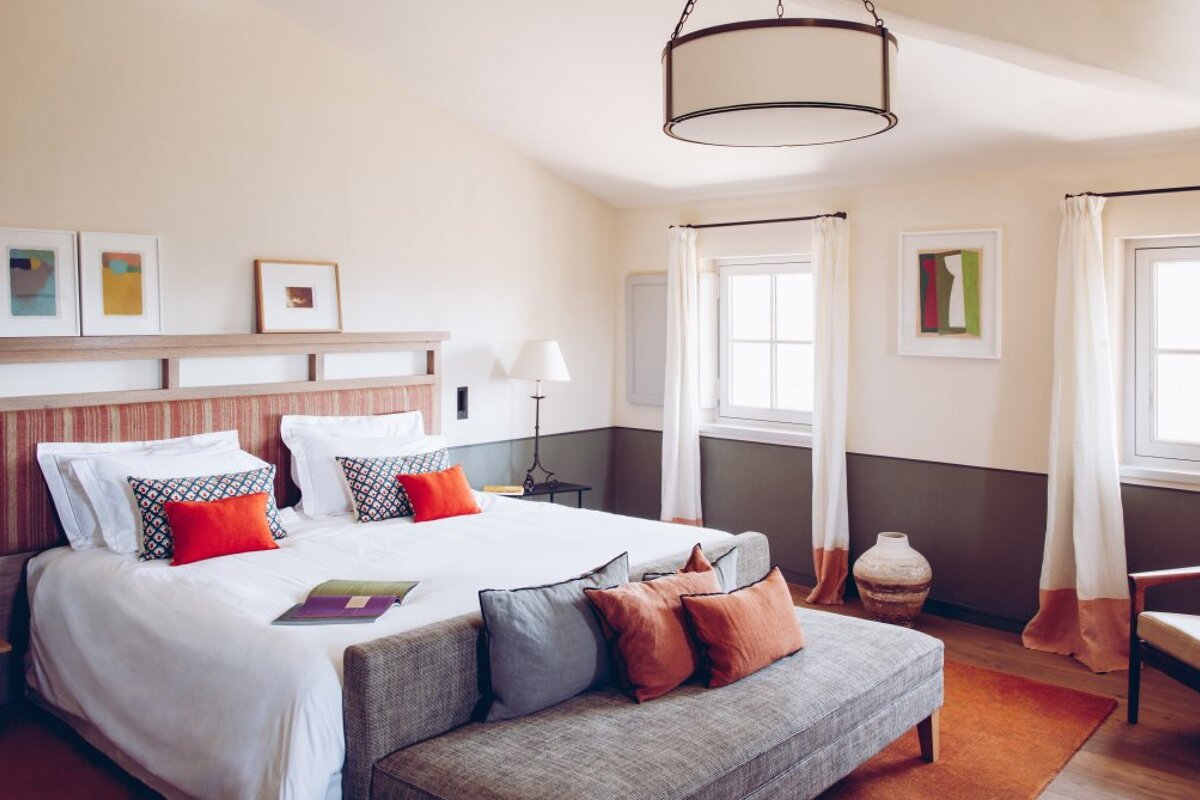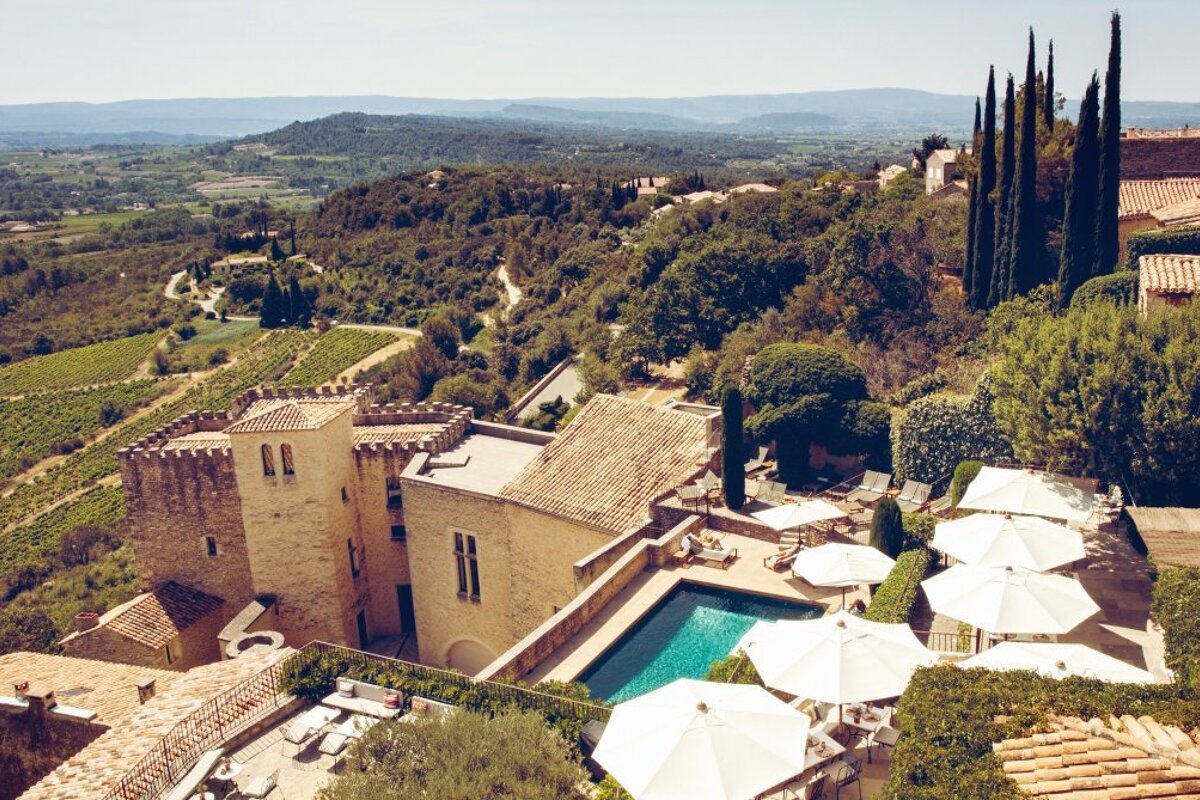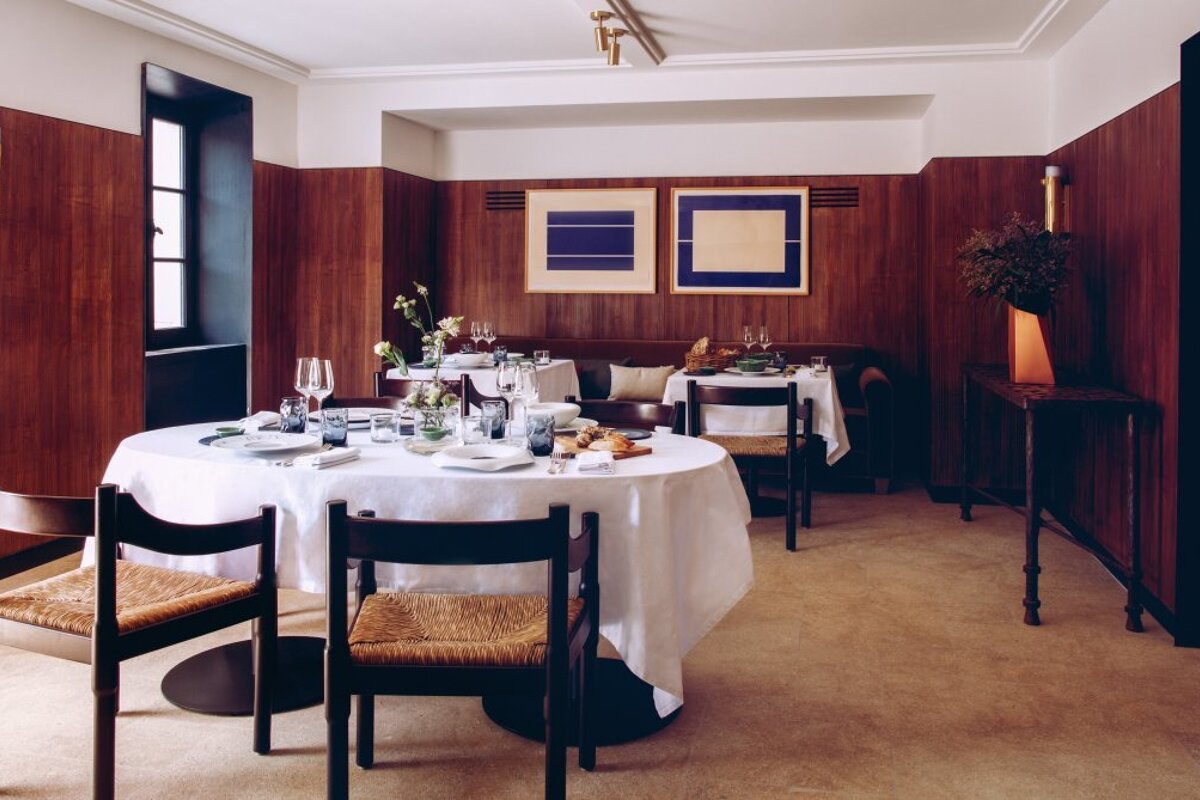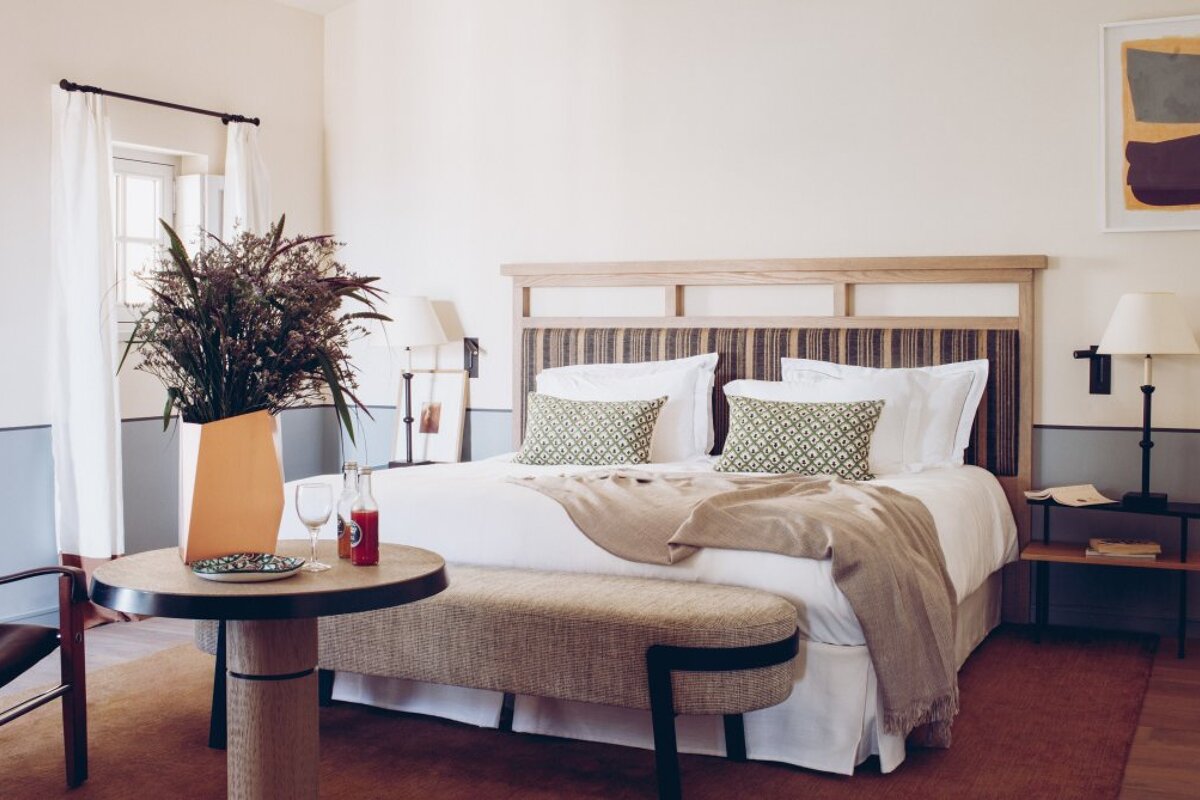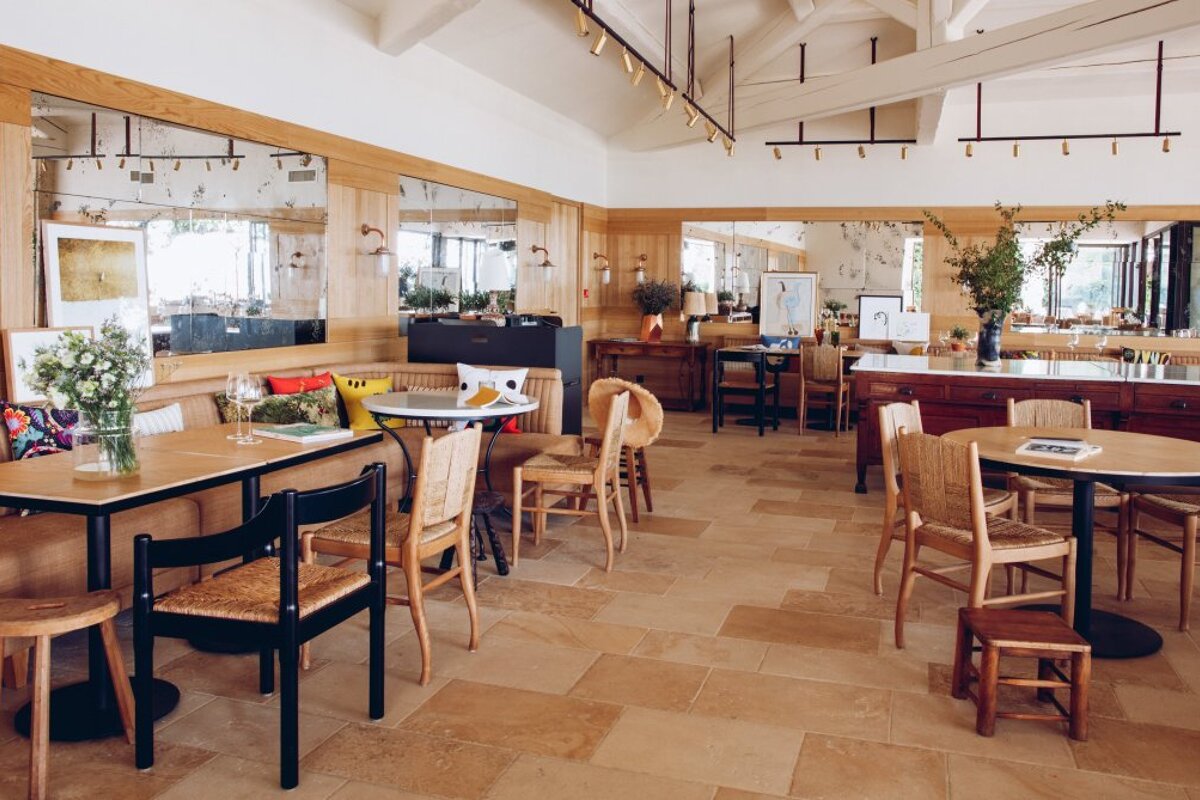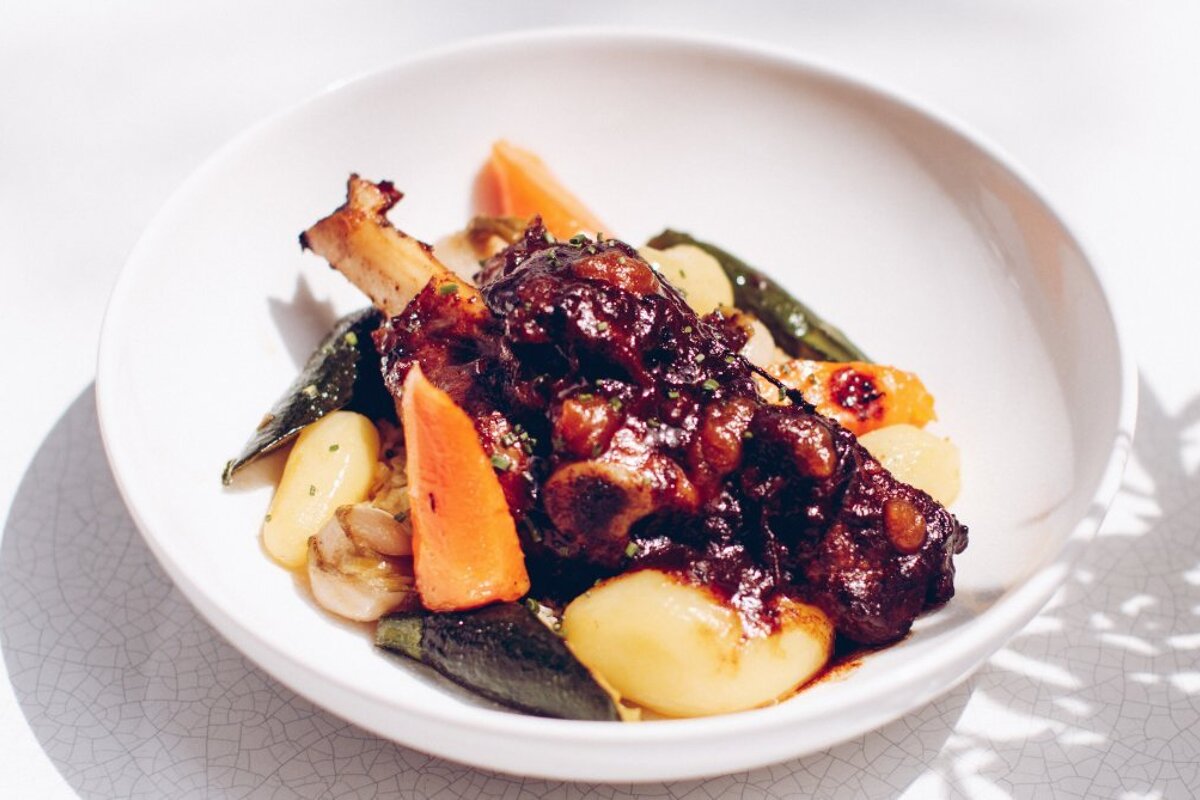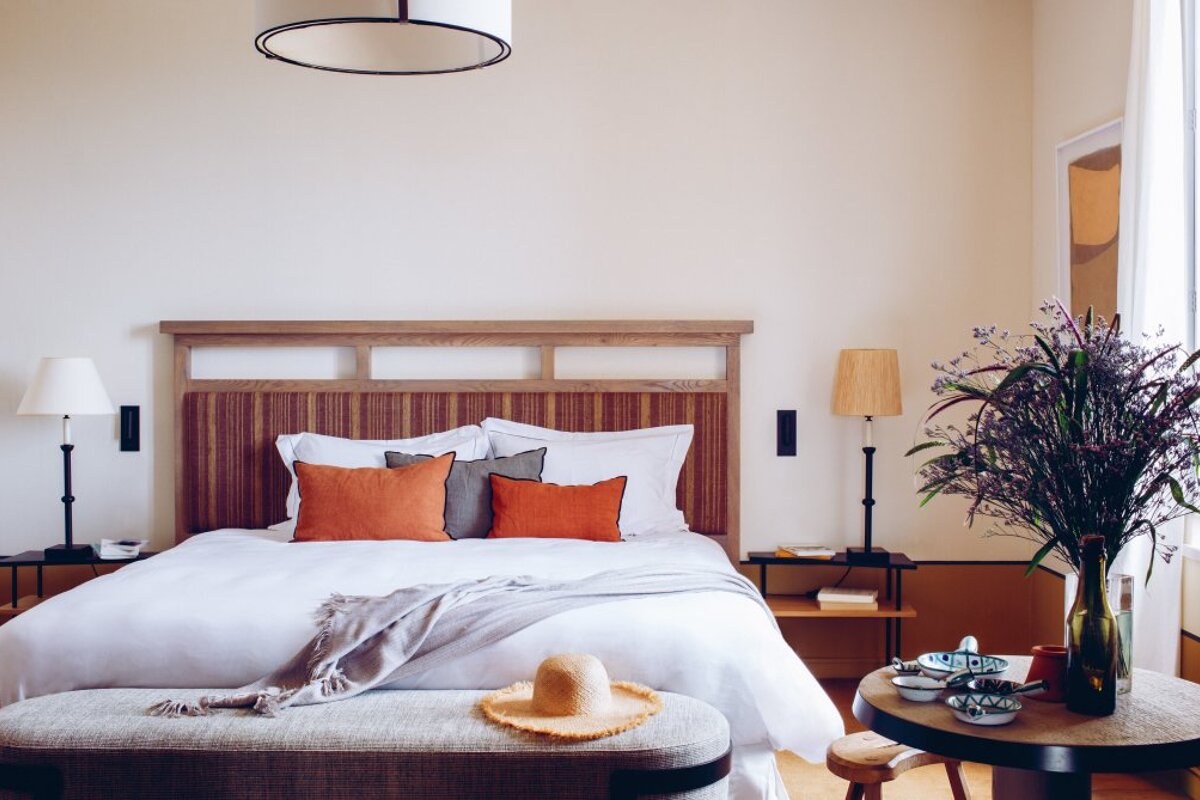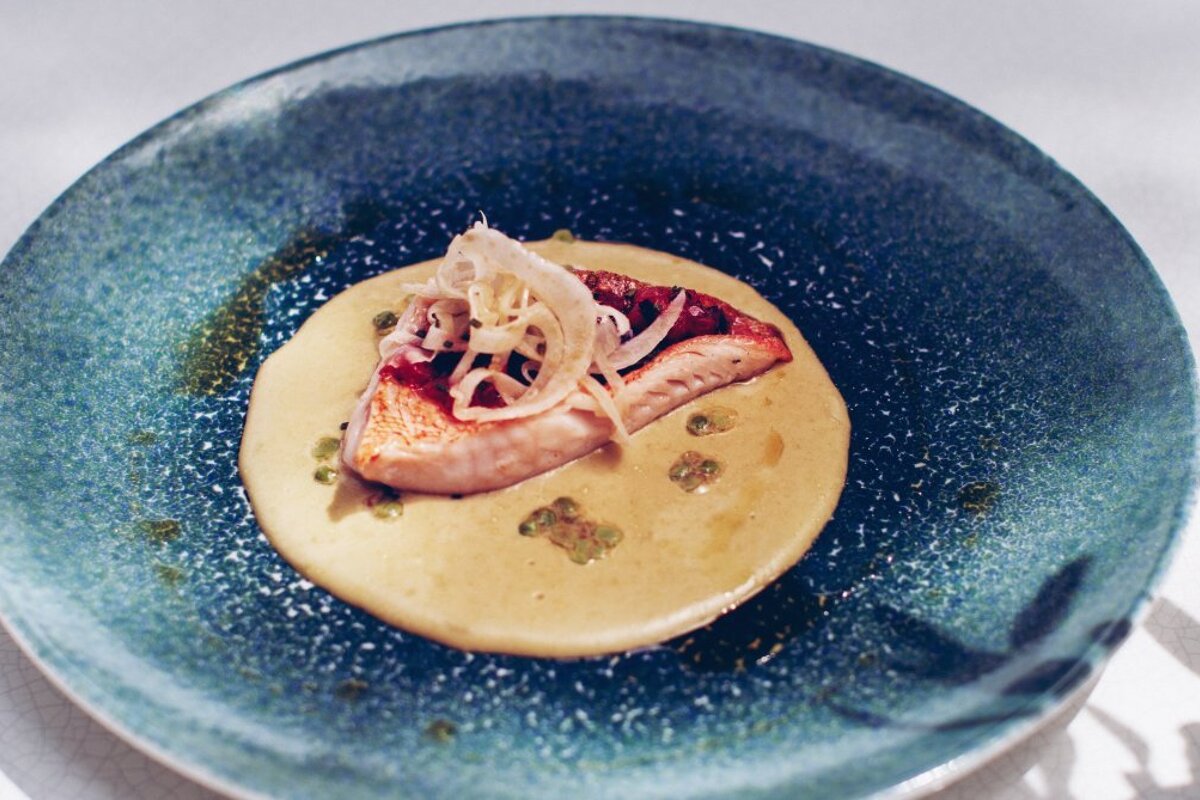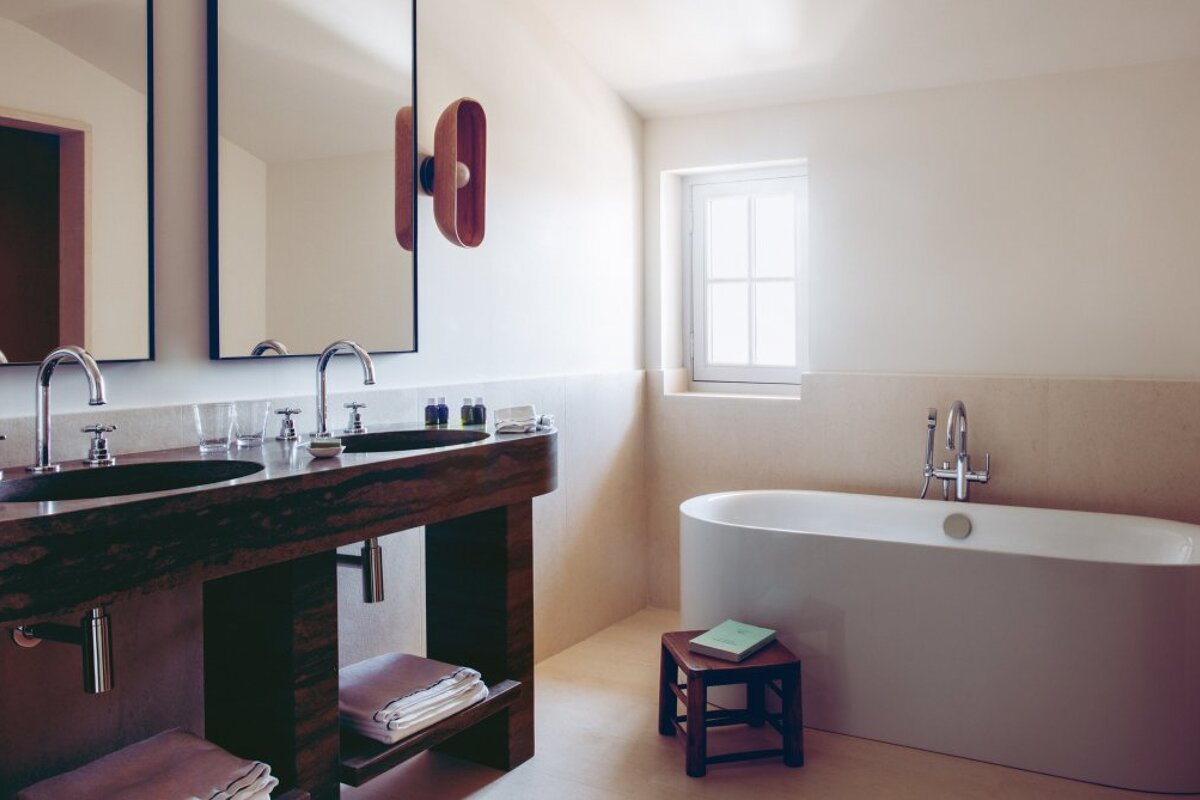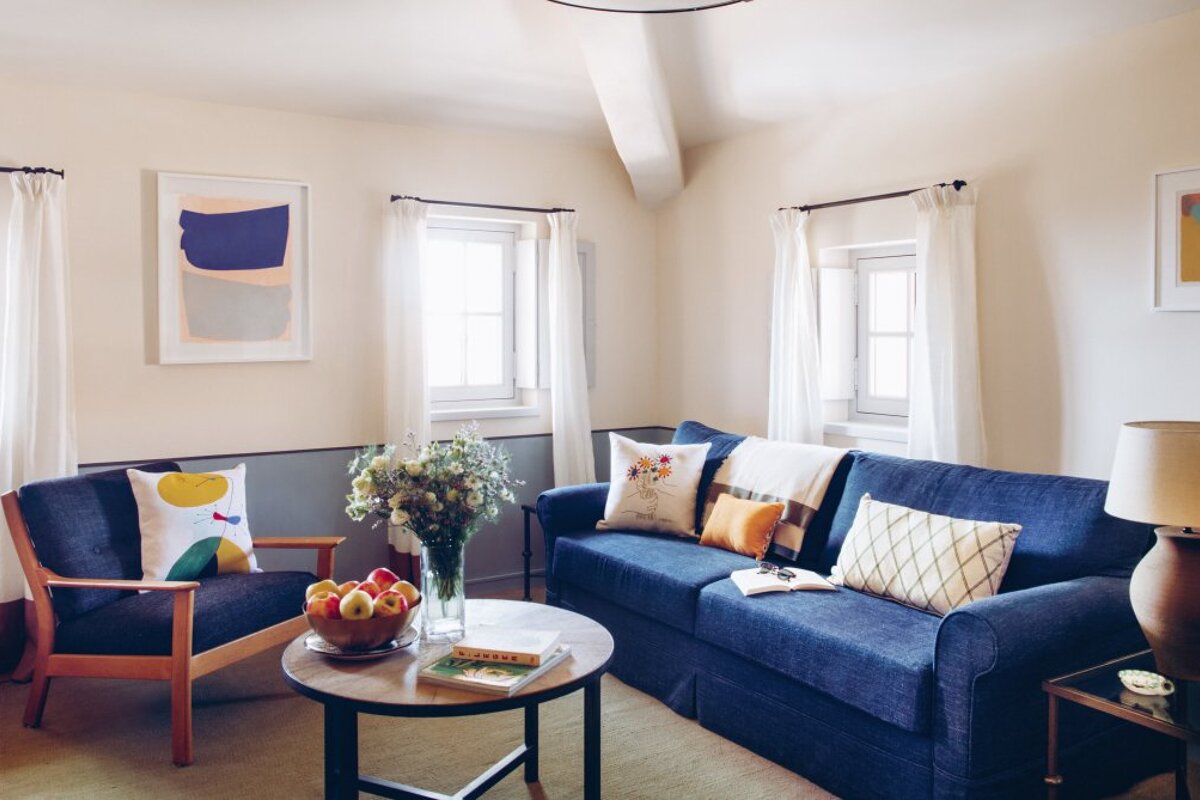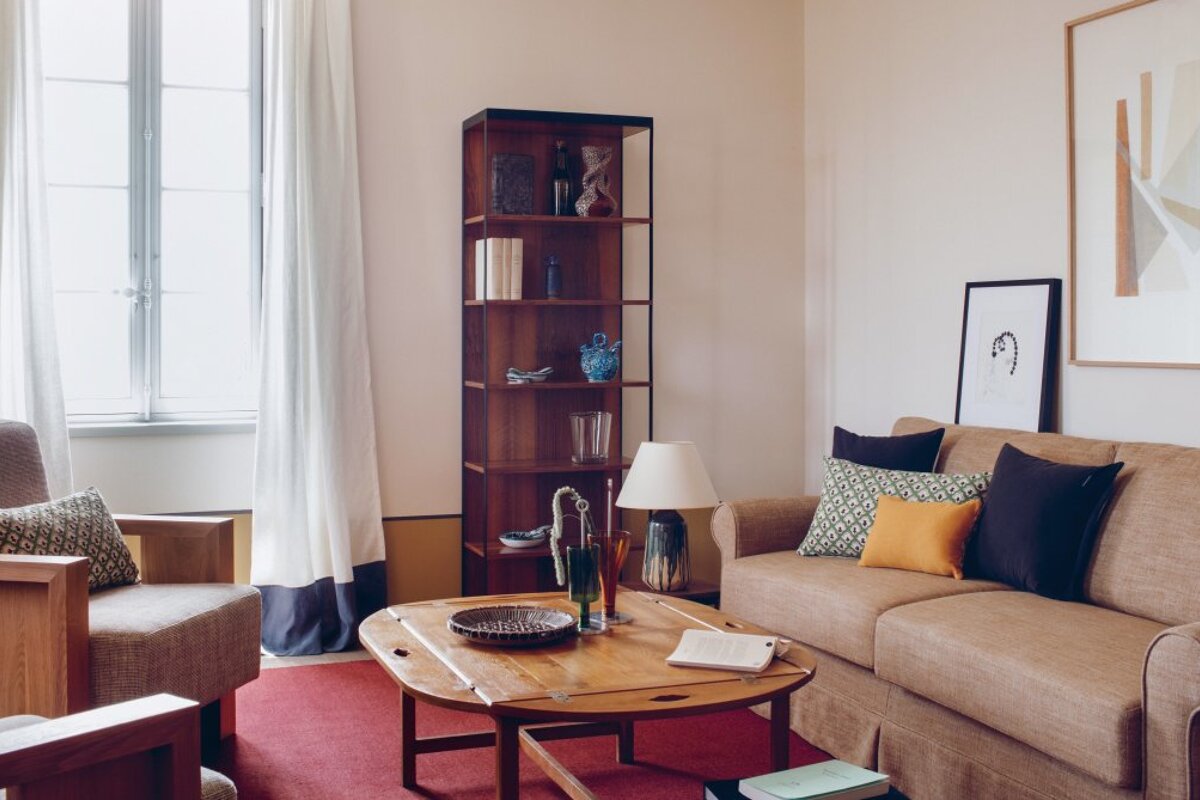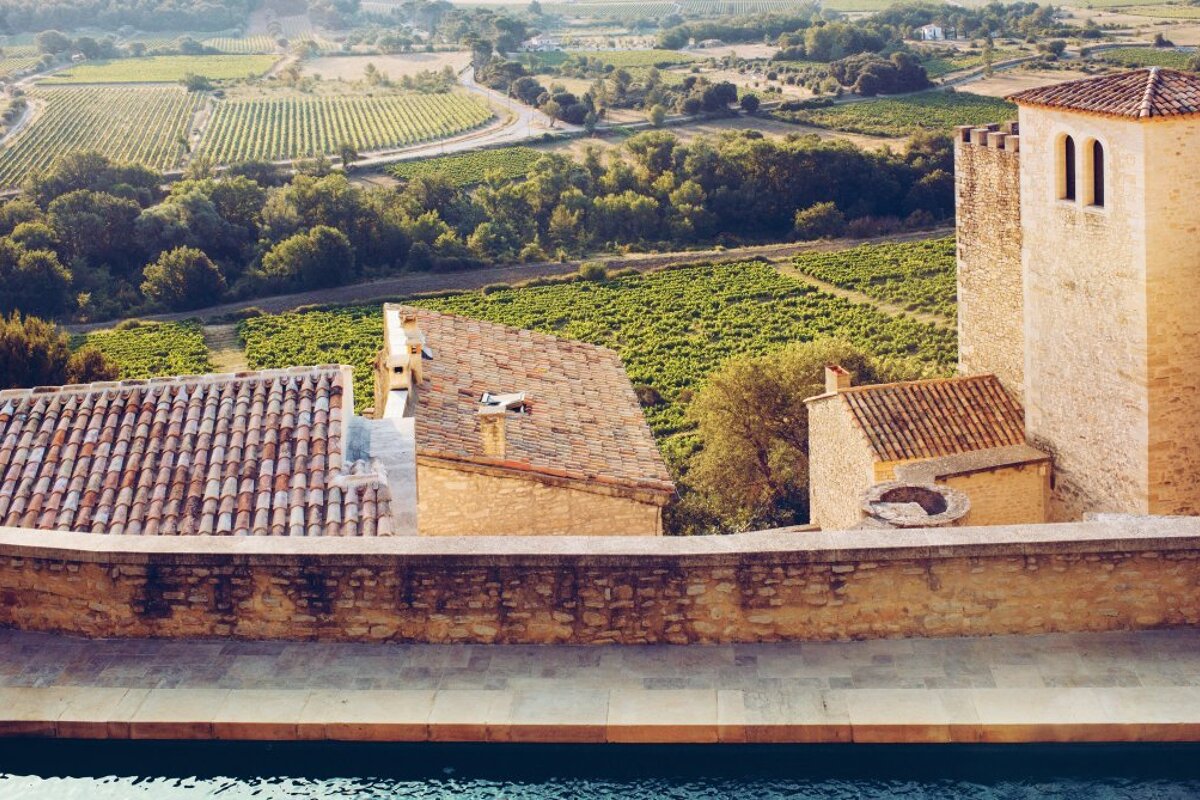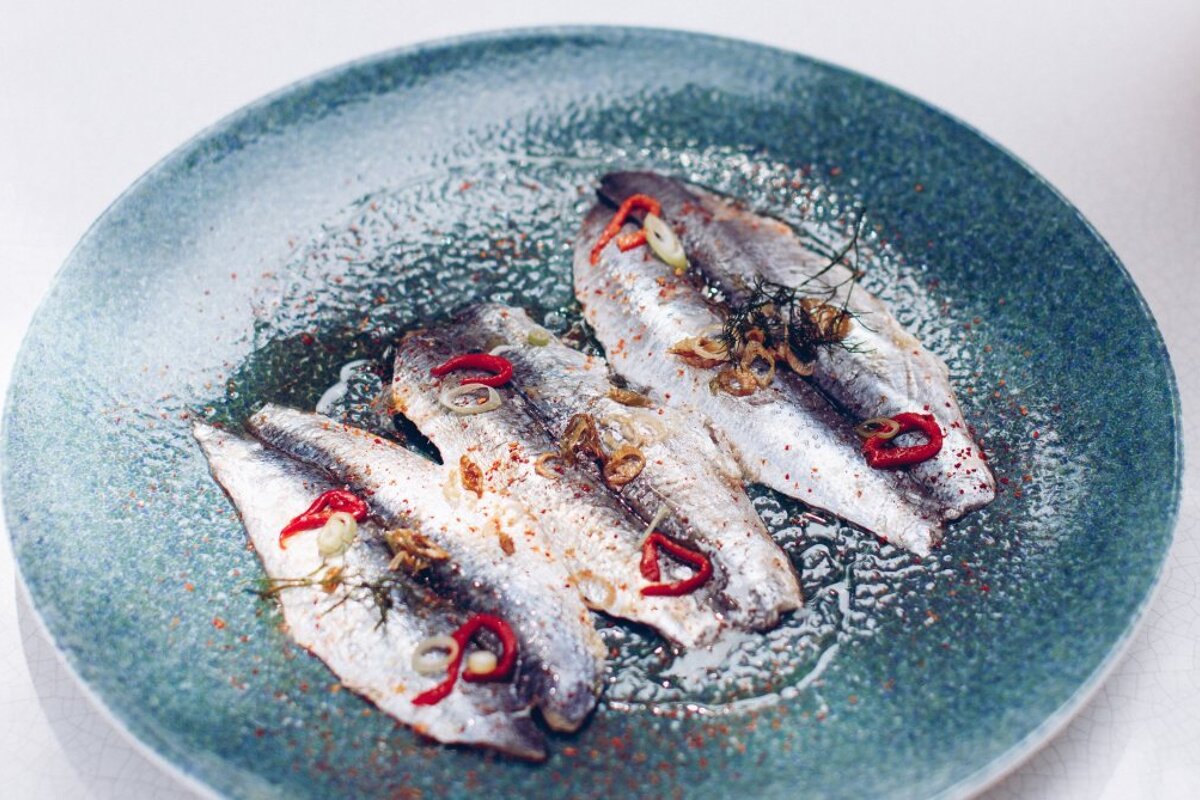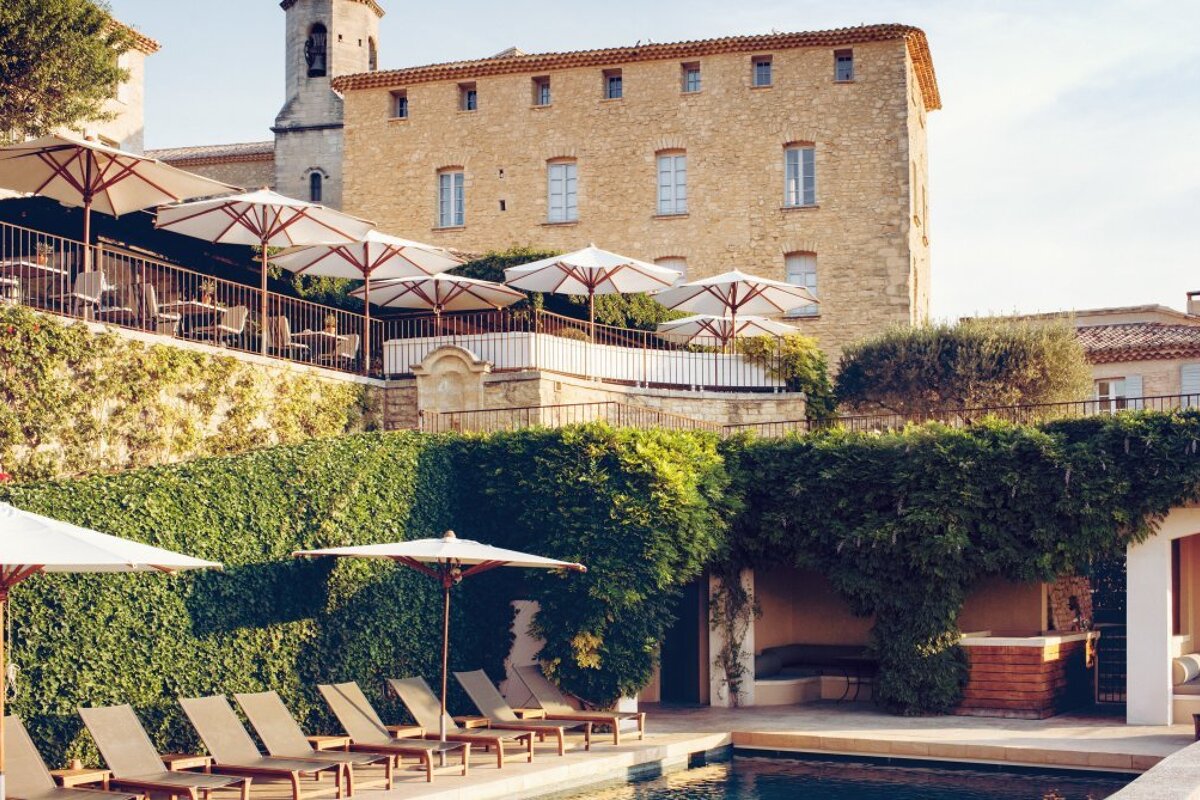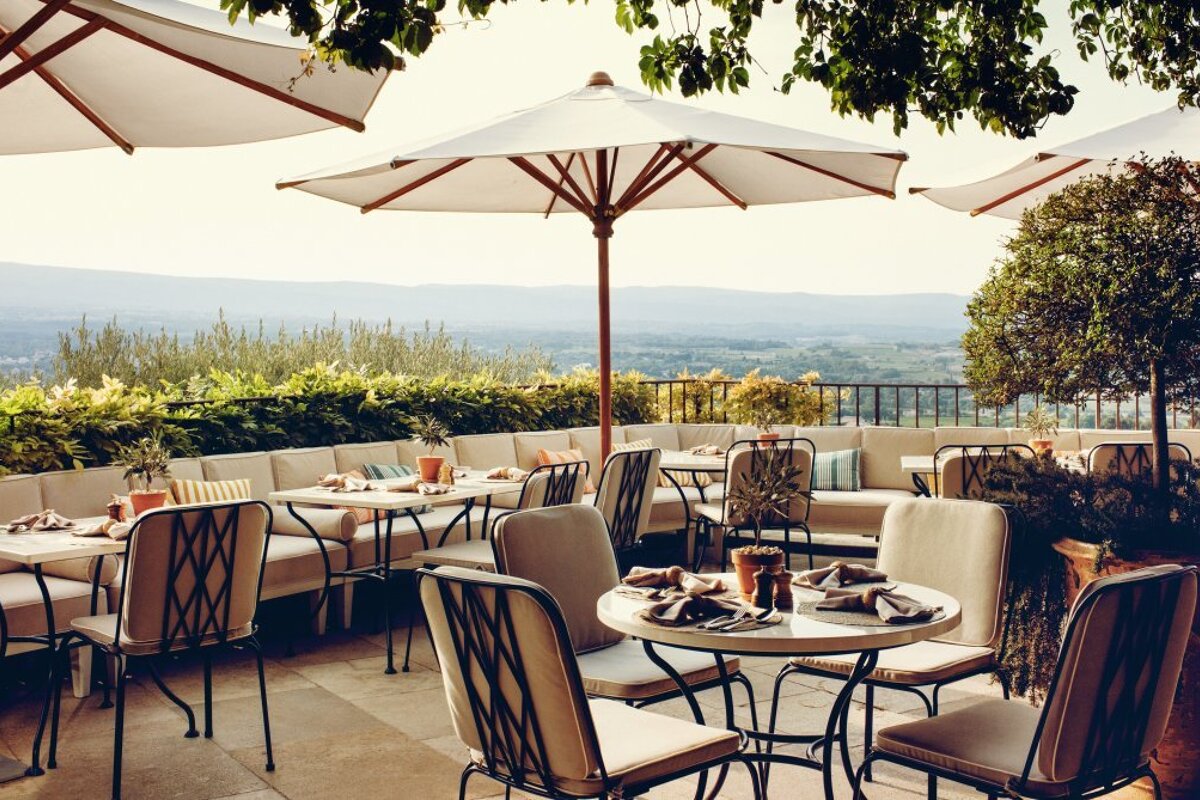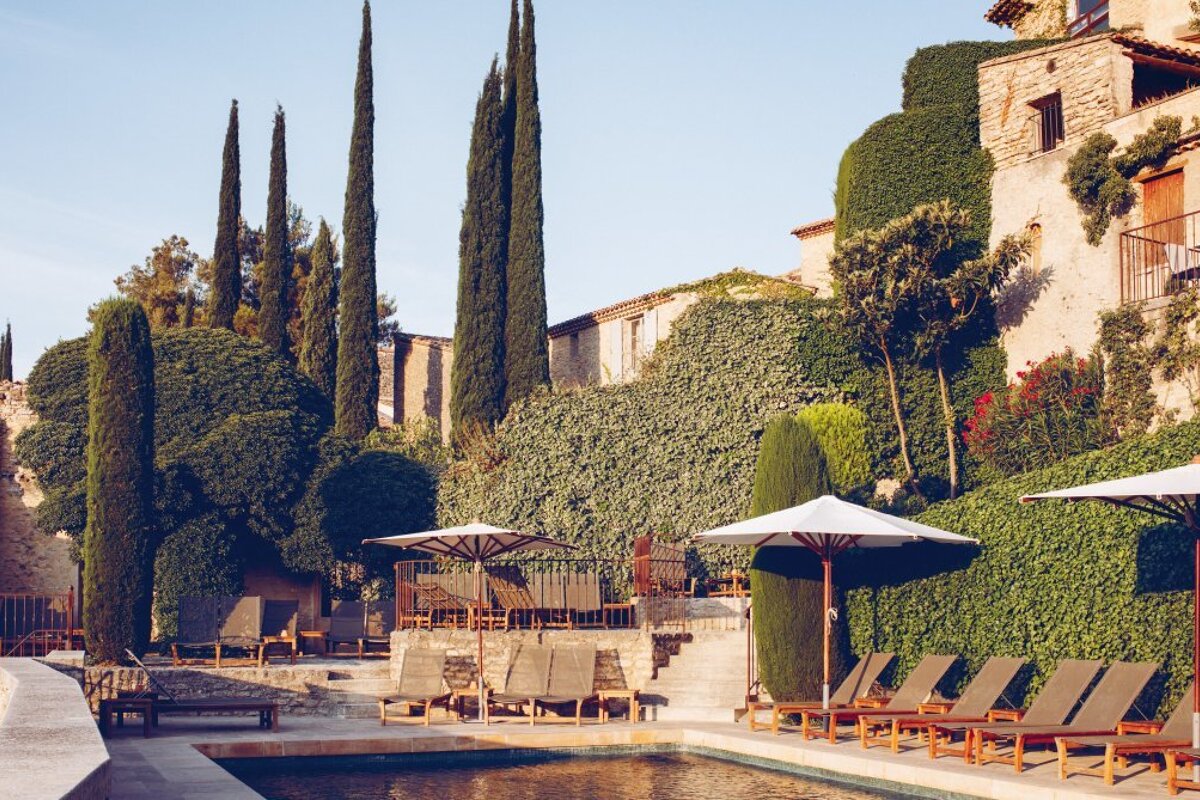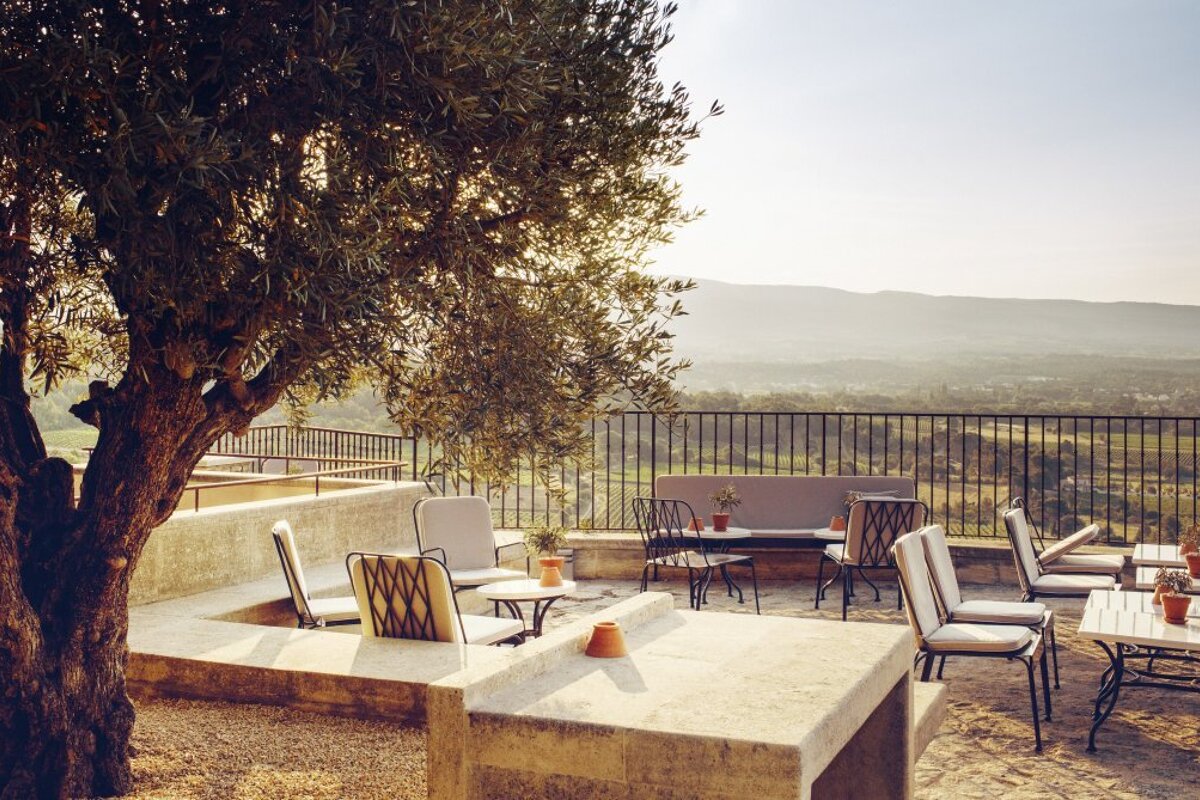 Crillon le Brave Luxury Hotel, Crillon le Brave
Boutique hotel nestled on a hillside with beautiful views in the centre of Provence
Set in a beautiful location overlooking the Rhone valley and Mont Ventoux, this 33 bedroom hotel can be found around 25 miles North East of Avignon. There are 15 double bedrooms and 18 suites available, ranging from 25m² for the smallest standard room up to 85m² for the largest suite.
Each of the bedrooms and suites are equipped with big comfortable beds, luxurious bathrooms, CD & DVD library at reception, DVD and flat screen satellite TV, complimentary high-speed WiFi, mini-bar, safe and individually-controlled air conditioning.
The hotel also features a small house, La Sousto, which includes a ground floor lounge and two small bedrooms above. It is ideal for families travelling with two children who want some more personal space.
The hotel is known for its food and fine dining experience, offering two different restaurants (see the restaurant section for details).
The grounds of the hotel include an authentic boules court so you can truly participate in some French culture whilst on holiday. Guests also have access to a tennis court nearby and bicycles for delightful jaunts through the Provencal countryside. Guests can also indulge in massage and treatments in the hotel's spa.
Reviews
247 verified reviews by
Who should go
Perfect for romantic trips, cycling breaks, family luxury and a pampering spa break.
The Pool
The outdoor pool is set on an elevated terrace in a relaxed environment surrounding by comfortable chic sun loungers. It is 6m-11m so the perfect size for a casual length rather than a full on work out.
The Bar
The Bar is open from 11:00 to 22:00. Whether you are looking for a quick latte or a cocktail or pastis, everything is on offer here. The Bar itself has plenty of different areas for a quiet drink. Outside, in the early evening, the Terrace Ventoux (above the pool) is a great place to sit and watch the ever-changing shadows of the corrugated southern face of Mont Ventoux. They also have live music several nights a week with a mix of gentle jazz and Mediterranean rhythms.
The Restaurant
The hotel is very much centred around ensuring you have a fantastic culinary experience. You are spoilt for choice when it comes to dining. The hotel has two eateries giving you the opportunity to enjoy a variety of dishes and surrounding.
Restaurant La Table du Ventoux welcomes you every day for lunch and dinner. Sit on the main terrace overlooking the vineyards and olive groves of Provence and enjoy a Mediterranean-style cuisine, in a bistronomic atmosphere. Provence cuisine in a gastronomic bistro version is showcased at La Table du Ventoux, with a generous cuisine, always based on the best local products. Thus, the sardines with piquillos, ceviches or the large pissaladière served on a board are perfect to enjoy good food with friends while admiring the view from the terrace.
The restaurant is open from 12:00 to 13:30 and from 19:00 to 21:30.
Restaurant La Madeleine is the gastronomic restaurant. Offering a refined cuisine, inspired by local products of Provence above all. Two menus: 5-course menu and 7-course menu.
The restaurant is open from Wednesdays to Saturdays from 19:00 to 21:30.
Visitor comments
"This exquisite Relais & Chateaux hotel is set within a cluster of seven 16th- and 17th-century stone houses in an ancient hilltop hamlet about 40km (25 miles) northeast of Avignon. The property feels utterly peaceful, with its glorious views of vineyards, olive groves, and Mont Ventoux -- you can see these spectacular views from the rooms and the golden stone terraces surrounding the swimming pool." - Frommers
"Fascinating place in an old village occupying several refurbished ancient buildings. Comfortable room, well appointed bathroom and comfortable bed. Absolutely magnificent service by the hotel staff, especially reception. Great terrace with a well heated pool. Free WiFi" - Trip Advisor
"Hôtel Crillon le Brave is a charming Vaucluse hotel set among the vineyards and peaceful villages east of Avignon. The stylish design of this boutique hotel's rooms creates an air of relaxation and tranquility. Crillon le Brave has an outdoor pool set among the terraces and offers wine tasting and cheese tasting." - Mr & Mrs Smith
Directions
Crillon le Brave is a small hill village located about 25 miles northeast of Avignon in the heart of Provence.

By air, the main options are Avignon, Marseille and Nîmes, and further away, Nice and Lyon. Of these, Marseille has the most daily flights including Air France, British Airways, Easyjet, Ryanair, and Aer Lingus.

By train, the Avignon TGV station is less than an hour away from the hotel.

Driving instructions from the main A7 (coming from the North, or from Avignon and the South) are available from the hotel.
Location