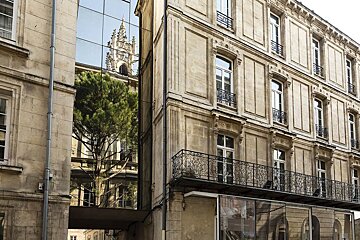 © Les Hotels Ocre et Azur
© Les Hotels Ocre et Azur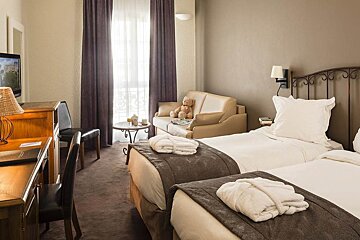 © Les Hotels Ocre et Azur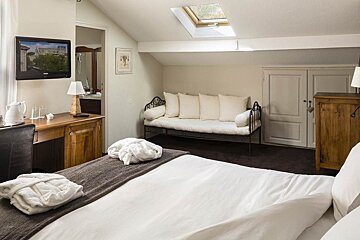 © Les Hotels Ocre et Azur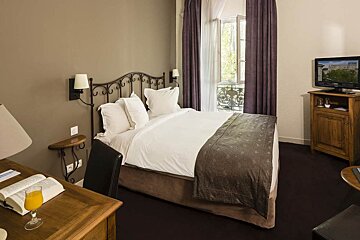 © Les Hotels Ocre et Azur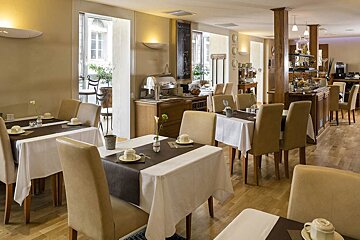 © Les Hotels Ocre et Azur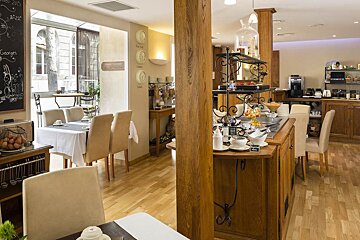 © Les Hotels Ocre et Azur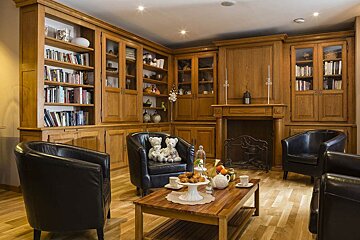 © Les Hotels Ocre et Azur
© Les Hotels Ocre et Azur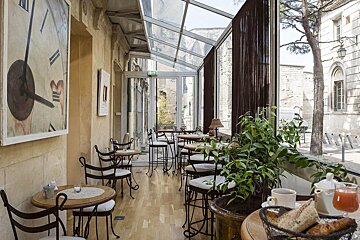 © Les Hotels Ocre et Azur
L'Horloge Hotel, Avignon
Charming central hotel with easy access to all that Avignon has to offer
This lovely hotel is full of character and is ideally situated in historic 19th century building in the heart of Avignon's historic centre, just a short walk from all local attractions.
All of their 66 rooms and suites have been decorated in warm tones with different materials coming together to offer refinement, authenticity and comfort. Many of the rooms include have terraces where you can enjoy the warm Provençal sunshine. All rooms have flatscreen Satellite TVs, free WiFi access, air-conditioning, mini-bar and safe.
For relaxing in comfort after a day of exploring the beautiful medieval town of Avignon the hotel offers a comfortable lounge area with large leather arm chairs and a log fire place for the cooler months of the year.
If you are looking for somewhere to host a seminar then this hotel offers an informal meeting room in their comfortable library. The room is fully air-conditioned and WiFi, screen, projector and flip chart.
For further details and booking, contact the hotel directly using the enquiry link on this page or visit the website.
Reviews
1369 verified reviews by
"Very Good"
Good to know
"Good restaurants & bars in the area"
"Good"
Good to know
"Shower can be a problem"
"Hotel could use some updating"
The Restaurant
The hotel does not includes a restaurant, however a delicious and varied continental breakfast is available each morning in their dining with everything from pastries, to fresh fruit to cakes and cheeses.
Visitor comments
"We spent our honeymoon here and loved it. The hotel is right on the main square and very central. The room was clean and very comfortable. There was a great range of complimentary toiletries and candy. The staff were friendly, helpful and spoke good English." - Trip Advisor
"The hotel is in the perfect location to enjoy exploring Avignon within a few minutes walk of the main sites and located on the Place de l'horlorge. We received a very warm welcome from very helpful staff and had a fantastic room with rooftop balcony which was immaculate and spacious with a very comfortable bed . Good choices for breakfast and very good restaurant recommendations reports of which are attached. Can't recommend it highly enough." - Trip Advisor
"We recently stayed five days at Hotel de l'Horloge in Avignon and were impressed with the caring staff, accommodations and overall stay here. It's in an excellent location just off the place de l'Horloge but away from the noise of this plaza. We were within walking distance to all the attractions that we wanted to see. The reception area arranged tours, gave information on bus/train service, restaurants, even weather. We will definitely recommend to anyone travelling to this area." - Trip Advisor
Child policy
Children are welcome at the hotel and 1 child under 12 staying in their parents room get to stay for free and have a complimentary breakfast!
Location