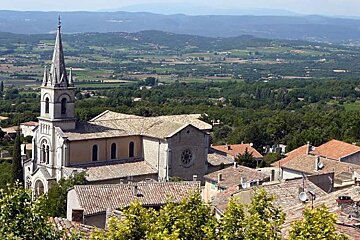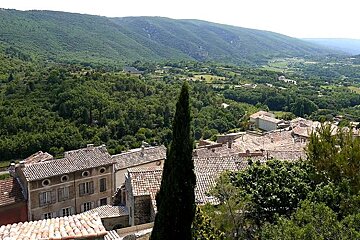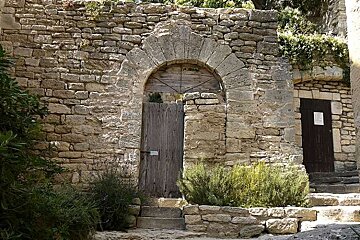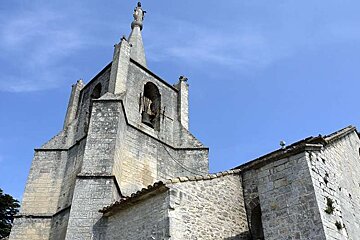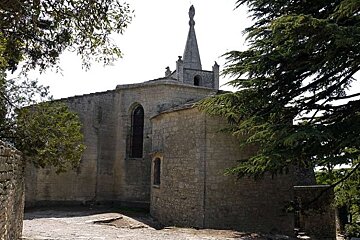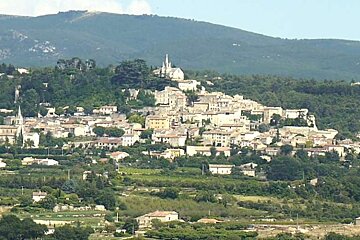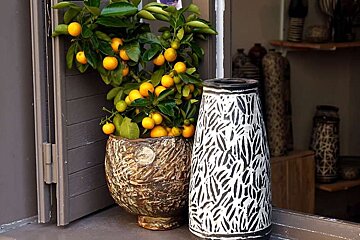 Bonnieux, Provence
Wonderful perched village in the Luberon
Just as other Provence perched villages, such as Ramatuelle or Mons, Bonnieux clings to the hill side, just below its top.
Today, you find little evidence of the prosperity that it once enjoyed, more of a pretty, sleepy village.
What takes your breath away here is the splendid view over the, often wind swept, valleys of the Luberon below, the fertile plains of Cavaillon and beyond - all the way to Mont Ventoux on a clear day.
Watch this
History & Culture in [locality]
It's a strategic position that has made Bonnieux a desirable place from the very early ages, there are even indications that the area was inhabited from as early as the Neolithic age.
In Roman times, the region of Bonnieux was a very important thoroughfare for the Romans, travelling from Cadiz to Milan. The Pont Julien (see below) is proof of this.
In the Middle Ages, Bonnieux became a Papal enclave, through a bizarre chain of events. This meant that the town was a tax-free haven in the centre of the French kingdom. Smuggling was rampant and the town prospered. Only the French Revolution was able to put a stop to the special privileges of the townspeople.
Sights & Attractions in [locality]
The best view point can be reached by climbing the many (86) steps up to the 12th century church on top of the hill. It's undeniably one of the best perched villages' views.
After the top view and your descent, you may feel that you've seen it all in Bonnieux. But wait...its terraced structure tends to hide the rest of the village. Descend a few streets down and you find yourself in a pleasant square with colourful houses, tasteful stores and outside cafés. Close by is the "new church," from the 19th century. It's as if there are two Bonnieux: the stern, older part along the main road and above it, and the "newer," more playful part with, granted, a lesser view.
With its long history, it's surprising that Bonnieux does not have a local museum to tell its story. What it does have, however, is a Musée de la Boulangerie (a bread baker's museum), the only one in Provence. It's housed in a quirky 17th century building and celebrates the making of the wonderful sourdough bread (closed November to April).
The Jardin de la Louve is a private contemporary garden which has won awards for being 'outstanding'. It's open to the public at certain times during the year, there is an entrance fee.
The Enclos des Bories is an authentic drystone village in a cedar forest - it's to the south of Bonnieux and is open during the summer; there is a small entrance fee.
With or without a museum, its long history is best told by the Pont Julien, located 5km north of Bonnieux. The name Julien refers to Julius, as in Julius Cesar. It's one of the best preserved and important Roman bridges in the region.
The are several art galleries in the village, some clothing boutiques and gift shops, but it's fairly limited in its scope.
Château Canorgue - made famous by the Ridley Scott / Russell Crowe film, 'A Good Year' - is on the outskirts of Bonnieux. It produces organic wine and you can only visit to buy the wine - there are no tours.
Events in [locality]
The market in Bonnieux takes place every Wednesday and Friday morning. You can expect wonderful local produce, cheeses, olive oils, honey, nougat, flowers, baskets, kitchenware, and arts and crafts from local artesans.
Each year, Bonnieux holds a heritage celebration weekend - on the third weekend of September, where there are guided tours, displays by artisans and concerts.
Things to do in [locality]
The Luberon is criss-crossed with walking trails. most of which eventually join the Grand Randonnee route GR97 (the Tour du Luberon). You can take a trail from Bonnieux heading either north or south to join this established route, it's about 10km either way. There are other, circular hikes which you join directly from Bonnieux - check with the tourist office for maps and trails.
You may prefer to explore the countryside on a bicycle, in case you are in luck. A circular route around the Luberon National Park has been marked out for cyclists. For something shorter, there is La Route des Crètes - a 14km (28km round trip) cycle path through cedar forests on a paved road (no traffic and flat, so great for families).
The 'Luberon à l'Infini' is a slightly longer 50km loop taking you through Oppede, Menerbes and Lacoste before finishing at Bonnieux. Ask at the tourist office for information about all these routes.
The Veloroute Calavon is a dedicated cycle path that follows an old railway line. It starts at Pont Julien and you can ride to Apt (east - 10km) or Beaumettes (west - 10km) depending which way you turn. Take a look at our Cycle Hire pages to obtain your bikes.
Bonnieux also features tennis courts and a golf course.
Location