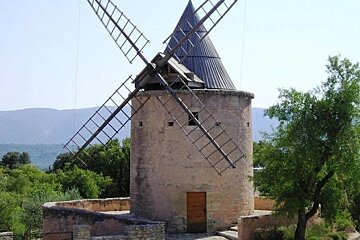 Goult, Provence
One of the less well known villages in the Luberon
Goult is a pretty little village, with an old quarter, small castle, windmill and a Romanesque style church.
Wander around the old streets, take a look at the old houses and archways, have a coffee at the Café de la Poste or just admire the views over the surrounding terraces and countryside.
You can explore the farming terraces in more detail, starting from the windmill and taking a walk down to see where the olive and almond trees grow. Dotted around the terraces are little stone huts called "bories" which were used for shelter, and steps and water tanks carved out of the natural rock.
Although these terraces are no longer used for farming, they still offer an insight into how life and farming used to be in Provence before the 18th century.
You'll find Goult is less busy than some of its more obviously visible neighbouring villages, with a nice relaxed atmosphere, it's a charming place to visit.
Events in [locality]
A local market is held here on Thursdays in the summer.
Things to do in [locality]
There's not a great deal to do here, but if you're looking for a slice of calm and tranquillity, Goult could be just what you're looking for.
Take a look at the "Moulin de Jersulam", the windmill at the top of the village or explore the streets and old stone houses. There is a cookery school not far to the west of the village, where you can enjoy some of the producte from local markets before taking them back to cook with them. Search for Venise en Provence.
Dining in [locality]
There are a small selection of cafés and restaurants in Goult, offering a selection of Mediterranean, French and International cuisines.
Where to stay in [locality]
Accommodation around Goult ranges from little studio apartments to larger properties including a chateau. Some of them offer outdoor swimming pools and most have wonderful views of the surrounding countryside.
Directions
Goult lies around half an hour's drive to the East of Cavaillon, or around an hour from Avignon.
Location