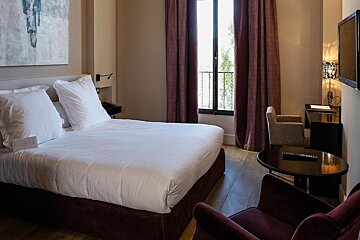 © Les Lodges Sainte Victoire Hotel & Spa, Aix-en-Provence
Les Lodges Sainte Victoire Hotel & Spa, Aix-en-Provence
A contemporary hotel with a spa, garden and gourmet restaurant
Set in a 5 acre park, a few kilometres from Aix-en-Provence, this hotel offers 39 rooms and suites with garden and countryside views.
The rooms are designed in a unique contemporary chic way, using designer furniture with modern conveniences. Some of the rooms have a balcony or terrace, and have a view of the gardens or countryside.
The hotel also offers 5 star luxury villas which can be rented on a weekly or monthly basis. The villas are spacious and stylish and have their own private swimming pool and garden.
The restaurant in the hotel has recently been awarded a Michelin star, and serves dishes made from fresh produce of high quality according to seasonal availability.
Reviews
618 verified reviews by
"Excellent"
Good to know
"Great concierge service"
"Excellent"
Good to know
"Great concierge service"
Worth knowing
Mathias Dandine is the Chef in charge of the "Saint Esteve" gastronomic restaurant, he has received several Michelin stars throughout his career and has worked at many prestigious restaurants.
He is passionate about showcasing Mediterranean cuisine, with fresh seasonal produce.
Visitor comments
"Very easy to find. Set in lovely grounds. Met on arrival by a pleasant porter who spoke perfect English. We wanted lunch but the restaurant was closed but the restaurant manager served us a delicious chicken Cesar salad. Our room was a balance of modern and traditional in decor. The toiletries were excellent." - Trip Advisor
"Super relax with spa and swimming pool, warm hospitable and personalized service, great French top food, ideally situated in Sainte Victoire Provence region, charming rooms with beautiful views on surrounding hills. " - Trip Advisor
Location