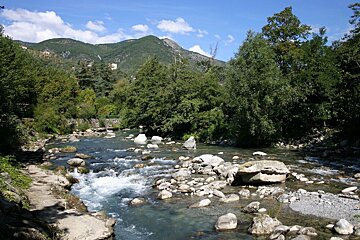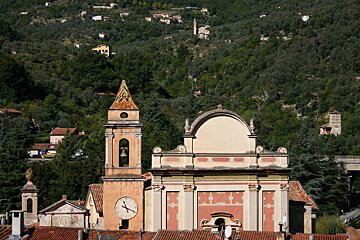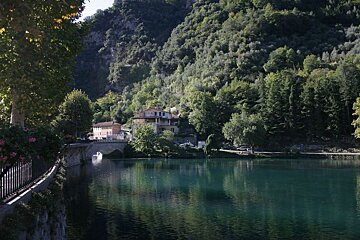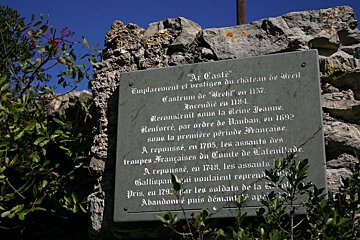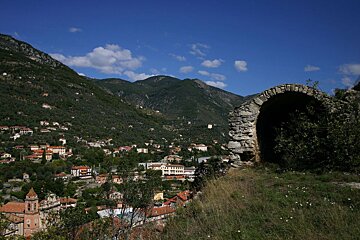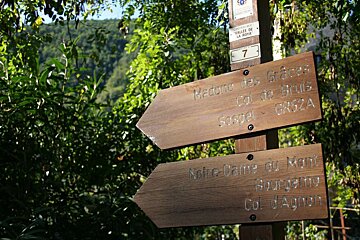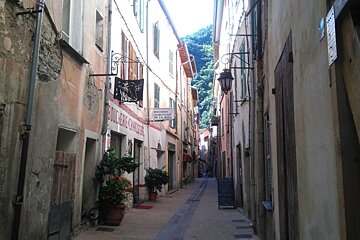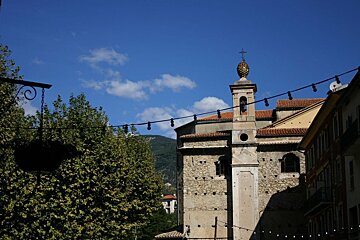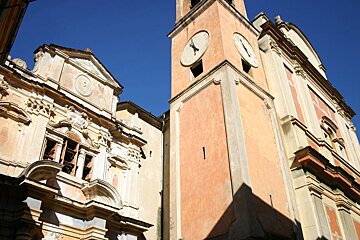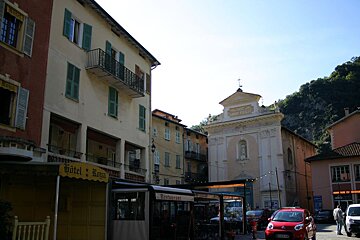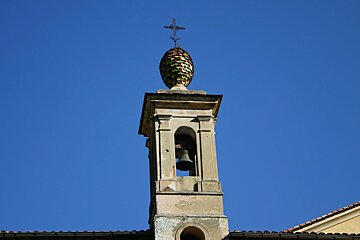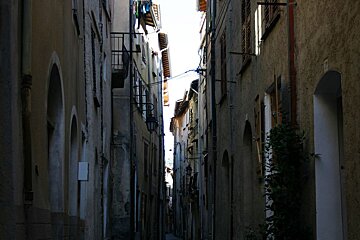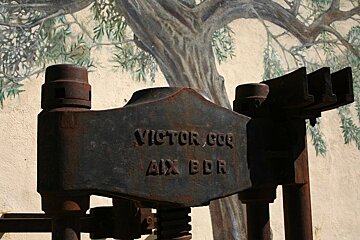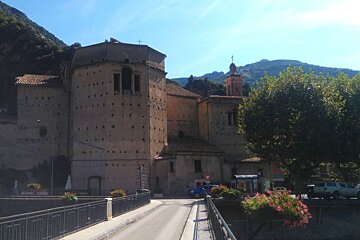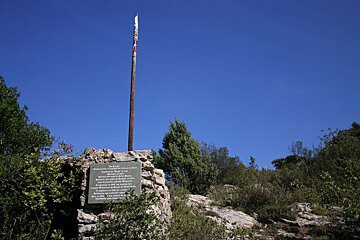 Breil-sur-Roya, Alpes-Maritimes
Visit an olive mill, discover ancient ruins and go canyoning
A lovely old town with a river running through it, overlooked by vast mountains and surrounded by terraced olive groves.
The streets are so narrow that it can be difficult to step back and take a good look at the buildings; to gain a little perspective, scramble up to the ruins of the old castle behind the town. You'll find a little path called Montée du Caste leading up from the town, and then it's a short scramble through an overgrown path to a tatty excuse for a flag at the top. All that remains of the castle is a few stones and half-buried walls but the views are excellent and it's a nice place to take a picnic.
If you have a couple of hours to spare and a decent pair of shoes you can hike up to the Tour Cruella, a 13th century fortified tower that looks over the town. It's named after a bird of prey and has nothing to do with Dalmatian puppies.
Rue Pasteur is the main street that runs through the centre of the village; a narrow pedestrian passageway lined with small shops where you can buy fresh bread, meat, cheeses and other local goods. Small alleyways link it to parallel streets where tall narrow houses almost seem to lean in over your head.
The river that runs through Breil-sur-Roya widens out when it passes the town and a hydro-electric dam at one end forms a lovely little lake where you'll often see locals fishing for trout.
History & Culture in [locality]
Wandering the backstreets will reveal all sorts of relics from the past; old bread ovens, stone water troughs, ancient passages. Ask at the tourist office for a town map and you'll find all the main points of interest listed so that you can embark on a self-guided walking tour.
Sights & Attractions in [locality]
The building that looks like a castle beside the river is, in fact, a church. Sancta Maria des Albis was built in the 17th century and looks completely different on one side than on the other. While the back looks like a fortified castle, the front dominates a tiny little square and has a warm red façade, with a smaller Chapelle de la Miséricorde beside it. Look up to see the brightly coloured tiles on the bells towers, they're so high that you can't really get a good perspective on them from the front so walk around a bit and view them from different angles.
Things to do in [locality]
There are a number of activity companies in Breil-sur-Roya where you can book yourself in for some river rafting, canyoning, via ferrata, mountain biking and many other outdoor adventures.
There are plenty of good hiking routes leading out of Breil and into the wilderness of the Vallée de la Roya. You can walk to Sospel in about five hours, from where you can pick up the Train des Merveilles to take you back to Nice, or Saorge and Tende are also wonderful places to trek to.
The GR52 trail that goes from Geneva in the Haute-Savoie to Nice in the Alpes-Maritimes passes through Breil, look out for the red and white markers painted on rocks, walls and trees. You can find all routes on map IGN #3841 OT Vallée de la Roya.
Other activities in the village include a tour of the olive mill where you can find out how olive oil is pressed and taste some tapenade, or a visit to the Ecomusée, a museum of rare and vintage vehicles ranging from locomotives to old tramcars.
Dining in [locality]
Place Biancheri is the main square, with the Office de Tourisme and a couple of little restaurants to choose from. It doesn't have a huge amount going on but it's in a nice spot and is a good place to sit with a coffee and watch daily life unfold.
Directions
Breil-sur-Roya is easy to get to on the Train des Merveilles, which runs directly from Nice. If you want to drive you can take the N2204 via Sospel, the D2566 from Menton or the E74 from Vintimiglia in Italy.
Location