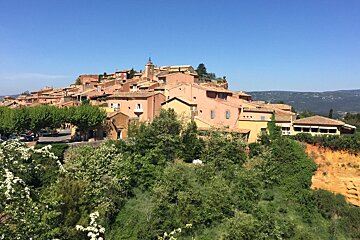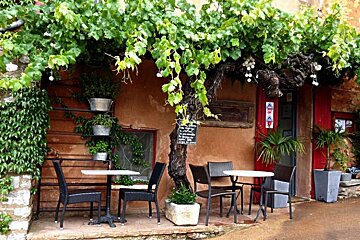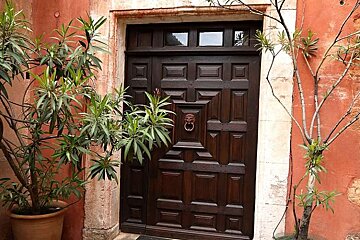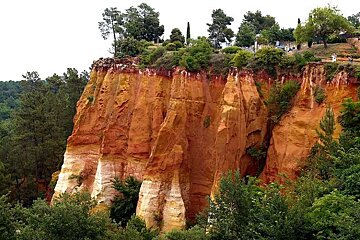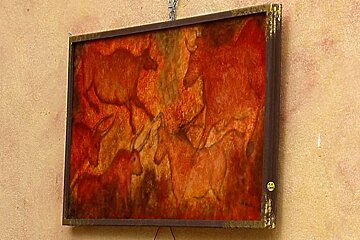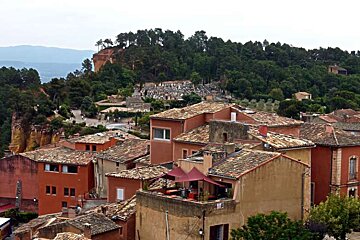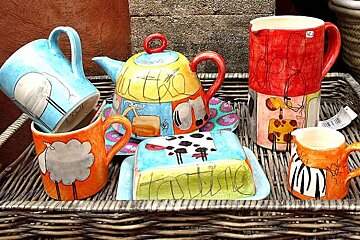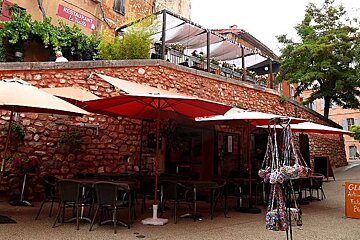 Roussillon, Provence
Gorgeous arty village famous for its red ochre rocks
Roussillon is wonderful village that is notable for its red rocks. You could be forgiven for thinking you've taken a wrong turn into Utah, with the starkly contrasting blue sky, red rocks and green vegetation.
The red earth comes from a large vein of ochre in the earth, and you'll see that Rousillon has used this natural pigment in the rendering of its houses.
History & Culture in [locality]
The ochre vein in this region of France is one of the largest in the world, and it stretches through the Luberon from Apt to Roussillon. It's commonly referred to the Colorado Provençal. The ochre was mined very successfully in the 19th and 20th centuries, until synthetic pigments started to be manufactured in the 1950's.
On the outskirts of Roussillon there is a disused quarry where an 'Ochre Trail' has been created. You can follow trails where you can examine the red rock up close in a 30 minute or a 60 minute walk.
The ochre pigment has been quarried here for many years which left some of the formations that you will see. There is also a centre dedicated to ochre on the road to Apt - the Ochre and Colour Conservatory that offers guided visits around an old factory, information on the geology and history, and workshops on the use of the colour in a variety of decoration techniques.
Sights & Attractions in [locality]
Roussillon lacks the historical buildings that nearby villages in the Luberon have - there are no grand castles or churches here. Instead, what you'll find is a less imposing village, unique in its use of ochre rendering, with little lanes and alleys tumbling through a mix of ramshackle buildings and somewhat swankier restored residences. Look out for beautifully carved, ancient wooden doors, hidden stairways and stone arches.
The church sits at the top of the village. It originated in the 11th century and has undergone a number of rebuilds and enhancements over the years. Above the church there is a little square with a viewing platform and orientation table where you can find a great view of the Luberon all the way up to the mountains of Vaucluse.
There are a few vineyards in the area that you can visit and sample their fine Provençal wines and buy yourself a bottle or two...or even a case.
Probably thanks to its connection to pigments, plus its location and the natural light of the Luberon, Roussillon has been popular with artists for many years. This has led to a number of art galleries opening in the village and you can follow an art itinerary where you will visit participating galleries and artists workshops, specialising in paintings, sculpture, jewellery and ceramics. Ask for the Parcours de l'Art leaflet at the tourist office.
Events in [locality]
The town market is held on Thursdays. At the beginning of June, there is a pottery market and on midsummers eve on the 22nd and 23rd June, Roussillon hosts St Jean des Couleurs with torchlit processions and bonfires followed by daytime markets and an agricultural fair.
Things to do in [locality]
When visiting by car, you'll find a pay car park at either end of the village - they are both quite small and you may have to park further away on the roads leading up to Roussillon before walking to the village. Or if you are staying here, ask if your accommodation provider has car parking!
There are several short hikes in the area and you can buy maps from the tourist office. The ochre geology has given rise to different plants and and trees in this area compared to the rest of the Luberon, and you may come across silicicola (southern redcedar), Norwegian pine trees, heather and wild orchids on your travels.
As throughout the rest of the Luberon, cycling is a popular activity. Try Luberon Biking in Roussillon or Bike Aptitude Cycling in Goult for your cycle hire.
Dining in [locality]
This town is perfect for sitting at a café and watching the world go by...but having said that, you will want to eat! And there is no shortage of nice cafés and restaurants in the town.
Hotels in [locality]
Surprisingly, for a popular village like Roussillon, there aren't any really nice hotels in the village or the immediate surrounding area. There is one two-star hotel in the village, and there are a handful of equally basic but pleasant Chambres d'Hôtes within walking distance of the village. Apartment and villa rentals are also available.
Location