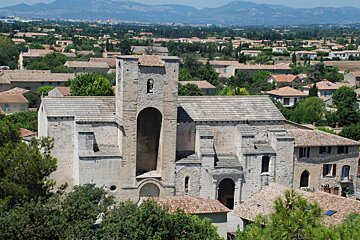 Pernes les Fontaines, Provence
Typical Provençal market town with a grand history
A charming little town, full of fountains and some quite grand manor houses that reflects its history as a former capital of the Comtat Venaissin (the region surrounding Avignon).
As the name suggests, it has many fountains (around 40) throughout the town, all serviced by the River Nesque. Around the river banks are leisure areas with shade - a blessing in the summertime.
Sights & Attractions in [locality]
It's nice for a wander, with a couple of museums and some medieval houses that are open to the public. Medieval ramparts and their three ancient gates point to its place in history.
The church Notre Dame de Nazareth dates from 11th - 17th centuries and you can enjoy lovely views from its elevated position. You'll also notice the clock tower from the 12th century, and the Ferrande Tower (also 12th century) which boasts impressive frescoes.
Events in [locality]
Market day is Saturday and all the usual outdoor activities are on your doorstep - hiking, biking, horse riding, fishing and a summertime outdoor swimming pool.
An arts festival, Font'Arts is held over a weekend at the beginning of August.
Things to do in [locality]
Take a walk around the many fountains of Pernes les Fontaines and be sure you find each and every one.
Hotels in [locality]
Just to the east of Pernes are some lovely B&B's to stay in.
Location