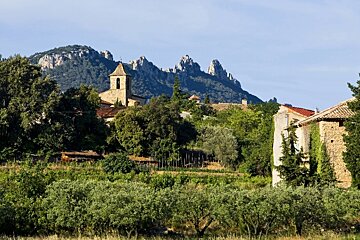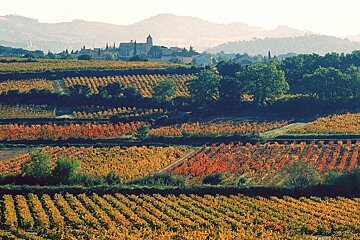 Vacqueyras, Provence
Small Provençal village famous for its wine
Vacqueyras is a village most well known for its wine production. Its small centre retains a lot of charm and you can enjoy a stroll around the narrow streets, soaking up the atmosphere of this sunny, agricultural village.
The village centre still houses a medieval guard tower dating from the 11th/12th century and you'll be able to spot signs of the Knights Templar in some places around it, as well as the walls of the old town which date back to the 15th century.
At one stage the portal into the old village was the only way in and out, but then a second entrance was build in around 1761 next to the church.
You'll notice quite a few fountains dotted about the village, one of which "La Grand Fontaine" was the first public drinking fountain in the village, fed by the waters from the Tombadou river. There are also a small handful of pretty stone houses around the village centre and two small chapels.
History & Culture in [locality]
The first official record of the village was in 1137, although the area was inhabited back in prehistoric times, with some neolithic remains having been found here. Lots of Roman artefacts have also been found in the vicinity although all of the buildings you see to this day are from medieval times or later.
Things to do in [locality]
The reason most people visit this area is for its wine, the famous Vacqueyras label, which is grown on 1,441 hectares of land. The vineyards are arranged in terraces that spread over the commune of Vacqueyras and its neighbour Sarrians.
The vineyards produce mostly red wines, although some white wines and even fewer rosé wines are grown in the area. It was only relatively recently in 1990 that the AOC appellation was awarded.
Dining in [locality]
There are a small handful of cafés and restaurants in Vacqueyras for lunch or dinner.
Hotels in [locality]
You have a limited choice of B&B's or hotels in the area.
Directions
Vacqueyras is around a 25 minute drive east from Orange or a 20 minute drive north from Carpentras, in the Vaucluse region of Provence.
Location