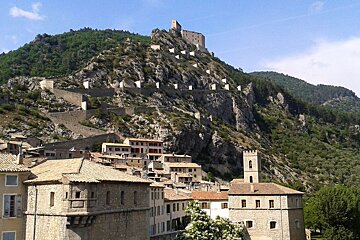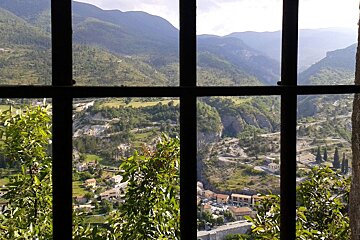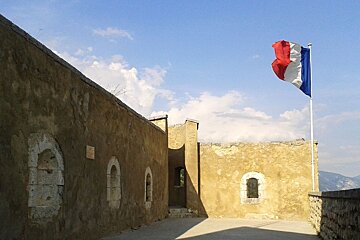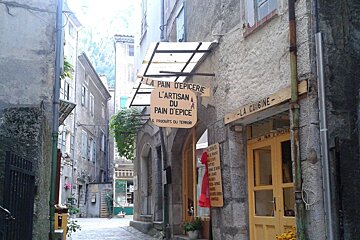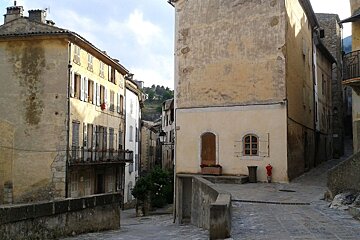 Entrevaux, Provence
An impressive walled town topped with a medieval citadel
First recorded in 1040, Entrevaux is an arresting sight - a walled medieval town surrounded by a moat, with a drawbridge entrance, towering gatehouses and a series of fortified walls leading up to a 17th century citadel perched up high above an enormous valley.
The dark cobbled streets are crammed with old buildings, many of which house artists' workshops, bric-a-brac and other curiosities. There are plenty of cafés and restaurants where you can enjoy some local Provençal cuisine but, despite Entrevaux being quite a touristy place, they adhere to very "French" opening hours so make sure you have lunch between 12:00 and 14:00, or you'll go hungry until dinner time.
The highlight of a trip to Entrevaux is making the short but reasonably steep climb up to the citadel. As the walled footpath zigzags up the mountainside you get fantastic views of the valley in all directions, wildflowers and brambles have crept up the walls and twist around the solid ancient stones. Once you're at the top you can follow the numbered signs for a self-guided museum tour of the old prison cells, the bakery and the various rooms of the citadel.
Disturbingly, you can climb down rickety ladders into the pitch-black dungeons that were used to house prisoners of war in more recent years - they're extremely creepy and you don't need much imagination to realise how horrific it must have been to be a prisoner here.
At the other end of the scale are the commandant's quarters with their terraces, fireplaces and sweeping views of the olive groves, pine forests, mountains and rivers of the Var. Access to the citadel is "self-service"; you must buy a token at the entrance and then let yourself in at a revolving gate. You can pick up leaflets that give you more information on the history and architecture of the site.
History & Culture in [locality]
Entrevaux was founded in the 11th century by the inhabitants of Glandèves, an ancient Roman town. Easy to defend and easy to fortify, so between the 11th - 15th century it was the perfect location for populations living with constant fear and insecurity. It was heavily fortified by King François I in the mid 16th century and again by King Louis XIV towards the end of the 17th century, in order to defend France from the Savoie invaders.
King Louis employed a man named Vauban, one of the greatest military engineers of his time, and one of the most important in Western military history, who designed and built dozens of forts and fortifications throughout France during his career, one being La Citadelle. He updated and reinforced the existing structures which were inadequate.
Its most recent and last military use was as late as WWI when it was a prison for German officers.
Sights & Attractions in [locality]
As well as the citadel and the town itself, Entrevaux also has a 17th century cathedral dedicated to Notre-Dame-de-l'Assomption; architecture is Gothic in style but the interior has much more of a Baroque influence.
To get a taste for local life you can also visit the traditional bread oven and the oil and flour mills that have been providing the community for centuries.
For something a bit more modern, Entrevaux has a small motorbike museum tucked amongst its labyrinth of backstreets and alleyways on Rue Serpente. Open from May to September, it houses about 70 motorbikes mostly all pre-1970's.
Things to do in [locality]
To explore Entrevaux on foot, you can pick up a walking guide from the tourist office on the way in, along with various leaflets for all the different points of interest.
There is also a multitude of hiking trails leading out of Entrevaux into the mountains beyond, the map for this region is IGN (1/25,000) #3641 OT "Moyenne Var".
Directions
Just 60km from Nice, the quickest way to reach Entrevaux is by car along the twisting N202.
However, if you suffer from car sickness, or just want to enjoy the ride then the Chemins de Fer de Provence train line runs from Nice to Entrevaux about five times a day on the way to Dignes-les-Bains. It takes about an hour and a half and is a wonderful way to see the scenery along the way.
There is also a bus service from Nice to Beuil that stops at Entrevaux.
Location